Seven general-purpose Git utilities
Add to Your Toolbox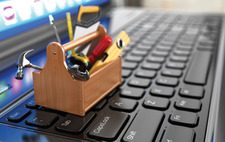 Once you've started using Git, these seven utilities can help you get the most out of this essential version control system.
Git, the version control system originally written by Linus Torvalds, is one of the most widely used Linux commands. Like other popular commands, such as apt or vim, an entire ecosystem of tools has grown up around it. In fact, Debian's stable repository alone lists over 60 secondary tools whose names start with "git" and around 70 with unique names.
These tools cover a vast range of functions. Some, like git-github and git-gitlab, help you more efficiently use other services. Others enable particular text editors: git-el enables Emacs support, while git-email adds functionality. Still others are commands to run reports on authors, commits, and other activities; to generate packages and send them to the repositories of distributions from within Git; to clean up repositories; and much more. There is even Gitless, an experiment to create a version control system on top of Git. Most of these tools are standalone scripts, but a minority are add-ons to Git and run as an option to the basic git command. Look beyond the Debian repositories, and you are likely to find as many choices again.
Some users install git-all and sort through all the secondary tools at their leisure. But what if you are more selective about what you put on your hard drive? Below are seven general utilities that can benefit most Git users.
git-big-picture
The command line is text-oriented, but some users benefit from a visual aid. For these users, git-big-picture provides a visualization tool that is the equivalent to git branch. It displays branches in numerical and then alphabetical order. For other users, the command provides a memory aid, perhaps as a map to monitor large numbers of branches. The command structure is:
git-big-picture --format=FORMAT --outfile=FILE --viewer=VIEWERGIT-REPOSITORY
The formats supported are SVG, PNG, PS, and PDF (Figure 1). By specifying a viewer, you open the result right after the command is processed.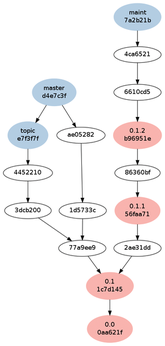 git-cola
While Git is designed to work from the command line, sometimes you need a graphical interface for an overview. Of all the half dozen or so graphical interfaces for Git, git-cola is by far the most efficient; its developer describes git-cola as a "caffeinated" version of Git (Figure 2).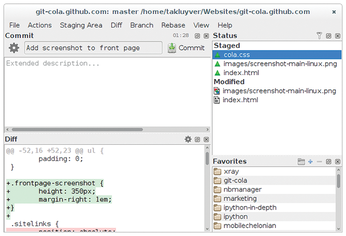 The git-cola GUI consists of three main windows. The first window is a file manager that lets you choose a Git repository. The second is the main working window, with Status, Commit, Branches, and Diff panes and accompanying menus. This window is likely to be immediately comprehensible to anyone with a basic understanding of Git. The third shows a detailed view of the current branch and its contents, as well as a map of all the repository's branches. Like the second window, the third has a simple top-level structure, but some of its dialogs demand more expertise and can be formidable in their detail.
git-crecord
Based on a similar tool for the Mercurial version management system, git-crecord can commit files in batches and set up comparisons in Git. In addition, its graphical interface and color-coding provides an overview of the repository. For example, in Figure 3, multiple files are staged, but not yet committed. Using git-crecord, users can choose how many files to commit.

Be aware that git-crecord integrates with the git-core, so that its command structure is git crecord. It has no options and therefore no man page.
comments powered by

Disqus
---
Support Our Work
Linux Magazine content is made possible with support from readers like you. Please consider contributing when you've found an article to be beneficial.
---