Getting started with the ELK Stack monitoring solution
Elk Hunting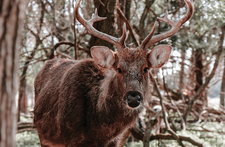 ELK Stack is a powerful monitoring system known for efficient log management and versatile visualization. This hands-on workshop will help you take your first steps with setting up your own ELK Stack monitoring solution.
Today's networks require a monitoring solution with industrial-strength log management and analytics. One option that has gained popularity in recent years is ELK stack [1]. The free and open source ELK Stack collection is maintained by a company called Elastic. (According to the website, the company has recently changed the name of the project to Elastic Stack, but the previous name is still in common usage.) ELK Stack is not a single tool but a collection of tools (Figure 1). The ELK acronym highlights the importance of the collection's three most important utilities. At the heart of the stack, Elasticsearch collects and maintains data, providing an engine, based on Apache Lucene, for searching through it. Logstash serves as the log processing pipeline, collecting data from a multitude of sources, transforming it, then sending it to a chosen "stash." (Keep in mind that, despite its name, Logstash itself does not preserve any data.) Kibana provides a user-friendly interface for querying and visualizing the data.
A bundle of tiny apps called beats specialize in collecting data and feeding it to Logstash or Elasticsearch. The beats include:
Filebeat – probably the most popular and commonly used member of the beats family. Filebeat is a log shipper that assigns subordinates, called harvesters, for each log to be read and fed into Logstash.
Heartbeat – an app that asks a simple question: Are you alive? Then it ships this information and response time to Elasticsearch. In other words it is a more advanced ping.
Winlogbeat – is used for monitoring a Windows-based infrastructure. Winlogbeat streams Windows event logs to Elasticsearch and Logstash.
Metricbeat – collects metrics from your systems and services. Metrics include CPU and memory disk storage, as well as data for Redis, Nginx, and much more. Metricbeat is a lightweight way to collect system and service data.
[...]
Use Express-Checkout link below to read the full article (PDF).
comments powered by

Disqus
Visit Our Shop
Direct Download
Read full article as PDF: