Read Ebooks on Android with FBReaderJ

Productivity Sauce
Aug 12, 2009 GMT
When it comes to reading ebooks on your laptop or desktop machine, few ebook readers can rival FBReader. The same is true for the Android platform, too. The mobile version of FBReader called FBReaderJ offers pretty much all the essential features without sacrificing usability. Similar to FBReader, FBReaderJ supports several popular ebook formats, including EPUB and FictionBook.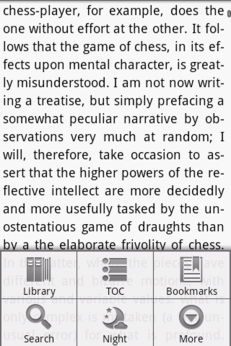 Once installed on the Android device, FBReaderJ registers itself as an application for handling ebook files. This means that when you click on a link to an ebook in the built-in browser, you can use FBReaderJ to download the book and add it to the library. This provides a convenient way of grabbing ebooks from popular Web sites such as FeedBooks.com. Similar to the desktop application, FBReaderJ allows you to view books by tags, so you can easily keep tabs on your book collection. You can't, however, add tags to the books using FBReaderJ. Other nice touches include support for Table of Contents, the ability to add bookmarks, a search feature, and a night mode with reversed text and background colors. There are also a few options available in the Settings section that let you tweak the reader to your liking.
FBReaderJ is still at an early stage of development, and there are some features that are not yet implemented. This includes, for example, the Network Search feature which can be used to search for books in the online ebook repositories directly from within FBReaderJ. But even in its current form, FBReaderJ is a rather capable application. So if you are looking for a decent ebook reader for your Android device, FBReaderJ is definitely worth a closer look.
Comments
eBook speaker

Hi

I want to introduce MultiReader an Android speech application.

MultiReader speaks Word, Power Point, EPUB, PDF, RTF, text documents in several languages.

There is also a direct access (search & download) to Gutenberg online library.

Currently availables voices are : English, Spanish, French, German, Dutch, Portuguese, Italian, Finnish, Dog, ...

Many more file formats & languages will come soon !

This application can be usefull in public transportation, to listen documents while driving, while doing sports, for people having difficulties with fine characters on mobile phones, for eLearning, etc ...

Available on Android Market and http://www.handango.com/cat...formId=80&productId=242990

Official web site :
http://bsegonnes.free.fr/multireader/en_multireader.html

comments powered by

Disqus

Issue 272/2023
Buy this issue as a PDF
Digital Issue: Price $12.99

(incl. VAT)