Issue #242 / Jan 2021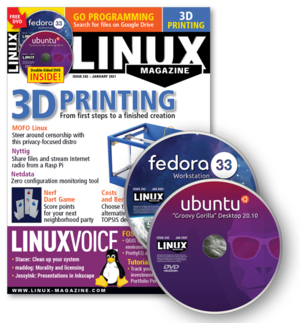 DVD: Ubuntu 20.10 "Groovy Gorilla" and Fedora 33 Workstation
Approximate on sale dates:
UK/Europe: Dec 05
USA/Canada: Jan 01
Australia: Feb 01
Highlights:
The weird, wonderful, futuristic world of 3D printing is waiting for you right now if you're willing to invest a little time and energy. This month we help you get started with practical 3D printing in Linux. Also in this month's issue:
TOPSIS – Use Python and the TOPSIS urban planning technique to choose the best solution from a group of competing alternatives.
Nyttig – Turn your Raspberry Pi into a personal micro server.
Look in MakerSpace for a tutorial on building an electronic Nerf ball game, and check out the Stacer system maintenance tool in this month's Linux Voice.
Keep Squawking
Today I'm remembering an episode that happened a few years ago. We are still a proud print publishing company, but, like most publishers, we deliver some of our copies in electronic form through content platforms available for personal computers and mobile devices.
Ubuntu 20.10 "Groovy Gorilla" and Fedora 33 Workstation
In the news: Dell to Enable Privacy Controls for Linux Hardware; Linux Mint Unveils New Packages; Pop!_OS 20.10 Now Supports DEB822 Format; Ubuntu 20.10 with Raspberry Pi Support; SaltStack Acquisition Brings More Automation to VMware; and New Storage Model Could Replace POSIX.
This month in Kernel News: Dealing with Older GCC Versions; and On-boarding New Kernel Hackers.
Getting started with the Ender 5 Pro 3D printer
Just unpack and get started? It's not so easy with hobby 3D printing.
Going from a sketch to a printed object
How do you get from an idea to a finished printed object? We'll take you through the steps with a glamorous example: a pair of 3D-printed earrings.
Alternative Linux desktop environments
If you are looking for an alternative desktop interface, Bruce gives a rundown of seven Linux distros with unique desktops worth exploring.
Secure online communication with MOFO Linux
Controls, surveillance, and censorship are increasing rapidly on the Internet. MOFO Linux lets you anonymize your communication on the web with an easy-to-use live system.
A command-line Twitter client
If you prefer to work from the command line, Rainbow Stream offers a quick and flexible Twitter client.
Choosing the best alternative with topsis-python
Complex decisions require the evaluation of multiple criteria. This article shows how to support such decisions with Linux, Python, and the TOPSIS Multi-Criteria Decision Model.
In the absence of an IBM supercomputer at his data center in Germany's Lower Rhine region, Charly has to make do with a Linux desktop, Stockfish, and chs in order to follow in the footsteps of chess grandmaster Garry Kasparov.
Hacking free software for creative writing
Some tools designed for programming can also be very helpful for writing fiction. A few to look at include personal wikis, random word generators, and version control tools.
Personal micro server
Turn a Raspberry Pi into a useful personal micro server for streaming Internet radio, reading RSS feeds, jotting down notes, sharing files, and more.
Finding and retrieving Google Drive files with Go
Mike Schilli does not put books on the shelf; instead, he scans them and saves the PDFs in Google Drive. A command-line Go program then rummages through the digitized books and downloads them as required.
Network monitoring from the cloud
Netdata helps you monitor your network with ease through a cloud dashboard.
Home-built shooting game with Nerf targets and a Raspberry Pi
A cool Nerf gun game for a neighborhood party provides a lesson in Python coding with multiple processors.
This month in Linux Voice.
Problems with Restrictions
Recent discussions of introducing moral restrictions into free and open source software licensing have maddog remembering all the reasons early developers decided not to go down that road.
LINUX VOICE: Stacer
Digital House Cleaning
Stacer simplifies the configuration and maintenance of Linux for newcomers by allowing users to handle most of these tasks conveniently in a graphical interface.
Your Feature Presentation
Using Inkscape with the JessyInk add-on helps you to create graphically appealing presentations that can be run in a web browser and are indexable by search engines.
FOSSPicks
This month, Graham looks at QGIS, PrettyEQ, dupeGuru, shapes.io, KTechLab, bit, EmissionControl2, and more!
Stock Watcher
Portfolio Performance helps you manage and analyze your investment portfolio.

Issue 243/2021
Buy this issue as a PDF
Digital Issue: Price $12.99

(incl. VAT)