An up-to-date look at free software and its makers
Original
If Bpgallery is too simplistic and Gallery 2 is too complex for you, the Original gallery software offers a compromise [4]. The small but powerful Original tool is written in PHP, and Ximian developer Jakub Steiner now takes care of its development. Original generates an attractive overview page with main and sub-albums. It can sort photos on the basis of user input, and users can view either thumbnails or full-scale images.
Beyond Amarok
After all this visual input, it's time to treat your ears: If you are looking for a platform-independent audio player that fares well compared with iTunes, why not try aTunes [5]? The software is based on Java, works on any Java-capable operating system, and requires MPlayer [6] on Linux. The aTunes interface adapts to suit the underlying operating system and desktop theme.
aTunes draws a diagram for each album and shows which tracks the user has played most frequently. Adding lyrics is a mouse click away (Figure 2). They appear on the right side of the player window during playback. Like its role model, iTunes, aTunes supports album genres and uses an intelligent database to manage the tracks. A playlist with various track selection functions rounds off the feature scope. If you want to know more about the artist you are listening to, you can search for information on Google Video, YouTube, or Wikipedia without leaving aTunes.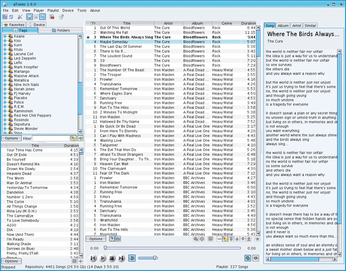 Freevo
With photo albums and a music player, you now need TV and video-recording software to convert your PC into a full-fledged multimedia platform – enter Freevo [7].
The developers call Freevo a "Home Theater PC Platform." Behind the attractive Freevo interface, users will find functions for playing movies and music. If your computer features a TV card, Freevo also gives you live TV, including an electronic program guide if you have a digital TV card. A photo album function means that Freevo can act as a digital slide projector.
A clear-cut web interface makes the program easy to use, and if you have a remote control, you can use it in the program. Themes allow users to customize the program's look and feel.
On the project website, the Freevo developers warn users that the project is still under very active development and that some components might not work from time to time, but the Linux alternative, MythTV [8], is still very much rooted in the beta phase.
comments powered by

Disqus