Programming with the Gambas Basic IDE
Distributing Programs
Programs you create with Gambas need the Gambas Runtime Engine on third-party machines. If you intend to distribute your software, the target system must have a run-time engine. Gambas provides an installation package wizard to help you set this up for your users. To launch the wizard, select Project | Make | Installation Package.
The wizard starts by prompting you for details on the author and a short description of the program. The version information and changelog are entered in Step 1. Gambas then creates installation packages for various distributions (Figure 7). As of this writing, the supported distributions are Fedora, Mandriva, Debian, Slackware, and Ubuntu. Packages created by the wizard can be installed and uninstalled by the distribution's native package management system.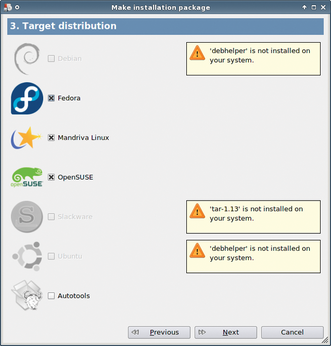 Help and Support
Gambas has online Help with a command reference. Entries for commands and constants have examples that clarify usage. For those who prefer to learn a programming language by following examples, the IDE includes a number of ready-made projects that illustrate the use of various components.
To access the sample files, select File | Open examples…. The examples are sorted by group and are all very simple. In addition, the comments in the source code help budding developers follow the logic.
A number of sample programs available online [9] provide a good starting point for building your own creations. However, some of the programs are fairly ancient. The tutorial created by the developers [10] is also a useful place to start your Gambas programming career. It guides you step by step through the development environment's functions, with an introduction to critical programming techniques.
The Gambas wiki [11] includes installation HOWTOs, a directory of error messages, and an up-to-date command reference. The comprehensive and very readable wikibook [12] for Gambas only covers version 1 of the environment.
For the most part, the documentation lacks support on advanced programming topics, such as how to develop custom components or more complex database programs.
Conclusions
Gambas offers a sensible user interface and an easy-to-learn programming language that let you develop simple graphical applications with a very short learning curve. It includes comprehensive support for various database types and lets programmers quickly and easily build front ends for database applications.
The program is now more than stable enough for production use. Version 2.0 suffered from a number of bugs and crashed fairly frequently, but version 2.5 has removed these failings.
Right now, Gambas needs updated documentation to make it more comprehensive.
Although some useful tutorials are available on the web, you won't find much information on advanced programming techniques.
comments powered by

Disqus