PDF creators, extractors, and editors tested
Scribus
The Scribus 1.4.3 layout program supports PDF versions 1.3, 1.4, 1.5, and PDF/X-3. On request, the DTP program either zips images or converts them to JPEG format. In the latter case, you can select one of five different quality levels. Scribus can create thumbnails and integrate bookmarks, as well as compress text and vector graphics. Furthermore, the user decides which of the fonts used in the document Scribus embeds in the PDF. Alternatively, you can convert the text to vectors.
On request, the layout program blends the changes between pages with presentation effects. As with LibreOffice Writer, users can influence the display in Adobe Reader and, for example, hide the menubar. Passwords can be used to restrict access to the document in Scribus, although rival LibreWriter offers much more granular settings.
Scribus, for example, can only completely ban printing, whereas Writer lets you print at a reduced resolution. In return, Scribus adds color bars, bleed marks, and other elements useful for printing to the PDF on request. In PDF/X-3 documents, it can save an explicit color profile.
Import: Very Poor
Although the PDF import feature in LibreOffice was middling, it proved to be simply unusable in Scribus 1.4.3. The text was missing in all of the imported PDF documents (Figure 6). Scribus handles the PDF as a large vector graphic. Users can only dissolve the group and move or delete some of the ingredients left over from the import.
Scribus really took the cake by crashing after importing PDFs that it created itself. It stands to reason, however, that the DTP program refuses to process password-protected documents.
gPDFText
The gPDFText tool opens the text from PDFs for e-books in a text editor [4]. However, this GTK+-based program can also handle normal PDFs, as long as they are not encrypted. We tested version 0.1.6 with our sample documents. gPDFText was able to extract and display all the text from the PDFs. That said, the layout was lost in all cases, and the extracted text appears a jumble of words (Figure 7).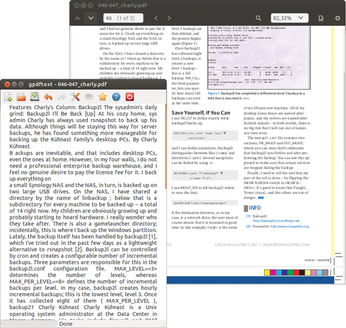 For multicolumn text, such as the article output by InDesign, the sentences were scrambled – partly nested within one other. gPDFText apparently insists on single-column text, as is typical for e-books. In the basic settings, the user can instruct the tool not to merge separate lines. In all, this setting had no effect; the text remained a Dadaist block of letters. Additionally, gPDFText tried to reconnect words separated by hyphens, but this did not always work in our lab. In any case, the user has no alternative but to rework.
comments powered by

Disqus
Visit Our Shop
Direct Download
Read full article as PDF: