Managing Vim plugins and scripts
Cleaning Up Vundle
You can remove plugins from the system by deleting their subdirectories in ~/.vim/bundle, followed by their mention in .vimrc. This is one of the basic advantages of Pathogen and Vundle. Instead of hunting for all the files associated with a bundle, as with default Vim, you can just delete the subdirectory to be sure that all of a bundle's files have been removed.
However, Vundle also provides :BundleClean so that you can remove plugins that are not being used without leaving Vim. When the basic command is used, you are asked to confirm the removal of each unused plugin. However, when the command is modified to :BundleClean(!), unused plugins are removed without any input from you (Figure 5).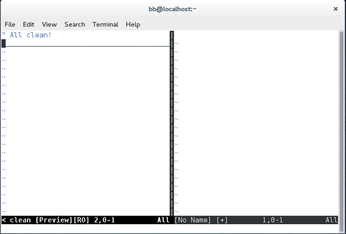 Searching for Plugins
Run in its simplest form, :BundleSearch finds available plugins that match the search term that you enter. For example, if you enter
:BundleSearch vim
a new window opens, highlighting all instances of vim as part of the name for plugins. From the new window, you can use the arrow keys to select a bundle, then the command :i to install the bundle or :s to do a search among the results. If you install, you will still need to edit .vimrc if you want automatic updates or use :c to clean up the list and :R to reload it.
The :BundleSearch command requires Curl to run. If entered without a search term, it displays all available bundles (Figure 6).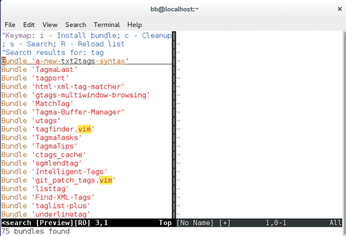 Deciding Whether to Use Vundle
Vundle is designed for regular users of Vim who are likely to have half a dozen or more plugins installed. If you rarely use Vim and have few plugins installed, you might not consider Vundle worth installing. Additionally, although automatic updates are convenient, to the security-conscious they do represent a vulnerability. Such users may prefer to stick with Pathogen, which rationalizes Vim's directory structure but does not provide automatic updates.
At the other extreme, some users find Vundle useful but think it doesn't go far enough. These users might consider Neobundle [6], a fork of Vundle that includes support for more than Git repositories, delayed plugin loading, and support for several plugins written by Neobundle's creator. However, if anything, Neobundle is too elaborate in its features. By contrast, Vundle, poised as it is between Pathogen and Neobundle, might be called a reasonable compromise between security and convenience.
comments powered by

Disqus
Visit Our Shop
Direct Download
Read full article as PDF: