Migrating your system disk to an SSD
Windows
The easiest way to copy a Windows partition is to use a 30-day demo version of Acronis True Image [2], which is free of charge. The True Image GUI (Figure 2) is self-explanatory.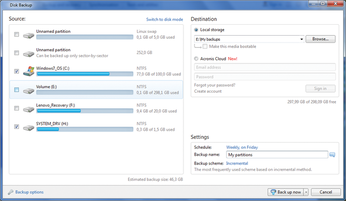 After you copy the partition, you have to restore the partition serial numbers. To do so, copy the serial number of the original partition in a file (Listing 1, first line). You can edit the number with a hex editor. Keep in mind that the number is stored in little endian format, which means backwards.
Copying Partition Serials
In this case, editing is unnecessary. I will write the same number back, which I will do with the second line from Listing 1. Note: skip and seek skip the given number of blocks before input (skip) and output (seek). You'll need to adjust the device name to match your own configuration.
Migration
Now it's time to fill the SSD with the image backup. In the case of a Windows partition, copying the backup to the SSD is no problem for True Image (Figure 3), but it is wise to double-check the setup. If you mix up source and target partitions, you have to start over. However, at least you won't cause a fatal problem because you never have to touch the original hard disk.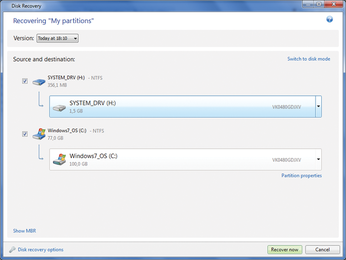 If you are working in Linux, it is better to start by installing the operating system to the SSD drive using an installation CD rather than trying to copy it. Starting with a new install has several advantages:
All relevant configuration files will get the UUIDs of the new partitions.
The system creates a new MBR with an updated partition table.
The installation procedure compiles a new Grub configuration, which will also boot Windows.
You get a fresh and unfragmented Linux.
Of course, nobody wants to lose all the applications that existed on the original disk and its configuration. Once you have installed Linux, you can overwrite the installation with the Rsync copy or the original system. Use the flag --ignore-existing to skip all files that the basic installation has already created. Apart from that, you can use the rsync command I described earlier.
This strategy has two minor disadvantages. First, --ignore-existing won't touch some configuration files that you have probably edited in the past (e.g., hosts, passwd, and group in /etc). Some applications might not work because they need a special user or because they try to translate a hostname in an IP address without DNS. You should manually adjust the necessary entries in these files.
Second, if you boot Windows via Grub, you will probably not be able to upgrade Windows (e.g., to Windows 8). The upgrade process wants to edit the Windows bootloader in the MBR, and it stops with an error message if it finds Grub instead.
Conclusion
An SSD instead of a hard drive results in a significant performance gain. I benchmarked two SSDs against the original hard disk. Figure 4 shows the results. The two SSDs differ a bit, but you see a five- or sixfold increase in I/O performance during sequential reads and a more than eightfold increase during sequential writes. The other results arise from random read and write operations with different block sizes and queue depths. Small block sizes clearly decrease performance, but in the context of the hard disk, you get a huge performance boost in all cases.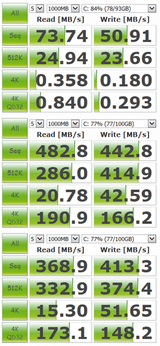 Switching your hard drive to an SSD drive does not require sorcery, but you will need a methodical approach, good preparation, and a lot of focus. The steps described in this article will help you switch your disk over to SSD. The reward for all your effort will be a much faster system.
comments powered by

Disqus
Visit Our Shop
Direct Download
Read full article as PDF: