Exploring the next generation KDE desktop
Desktop Party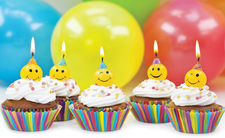 The KDE desktop has at least a thousand tweaks for configuring your user interface down to the tiniest detail. KDE SC 5, the next generation K desktop, will be no exception.
Desktop environments have an equally strong effect on user satisfaction and productivity as does the underlying infrastructure of a distribution, and the Linux world is firmly divided into two design camps: supporters of the Qt framework [1] and supporters of Gtk+ [2]. Often KDE also acts as a first point of contact for users who switch from Windows to Linux. The way the desktop is controlled and visuals facilitate the transition. Rich configurability in particular is one of the KDE desktop's greatest strengths.
Both KDE and Gnome are the elder statesmen of Linux. KDE was founded in 1996 as the "Kool Desktop Environment," and the Gnome project was founded three years later. Lately, both desktops have evolved in opposite directions – which does not mean the two projects do not cooperate – such as in the Free Desktop Project [3]. The Gnome development process is increasingly moving toward a reduction of visible features, whereas KDE tends toward the other extreme and continually implements additional components, such as the semantic desktop.
Besides the Software Collection (KDE SC), which I will look at in this article, the KDE project also released the Calligra Office Suite [4], which emerged from KOffice, and KDE Extragear [5]. Extragear comprises programs such as the Amarok jukebox, K3b burning software, Digikam photo management, Konversation IRC client, and Kaffeine media player (Figure 1), which round out the current KDE SC with additional applications.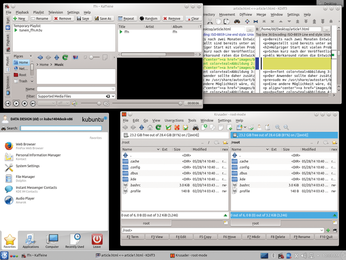 The KDE 4 Cycle
The KDE 4 cycle, which officially began with version 4.0 [6] in January 2008, got off to a bad start. Users complained that the new version needed more testing before the official release. Their disappointment was understandable, in that KDE 4.0 was only suitable for die-hard fans – as was true for the next three versions. Radical changes and innovations, as introduced in KDE SC 4, require a wide test base. From today's perspective, it might have been more appropriate, then, to version the first release of the 4 cycle as 3.9.x and thus clarify that the level of maturity was not yet sufficient for production work. In this way, the K Desktop lost many disappointed users – but something similar happened to Gnome in the transition to version 3. Additionally, KDE 3.5 is still unofficially available as a fork under the name Trinity [7].
Beside reorganization of the software ingredients, KDE 4 also saw some re-orientation of marketing as of KDE 4.4 – as the KDE Software Collection (KDE SC) – with many visible changes and many more under the hood, such as breaking up the monolithic KDE libraries. The new Phonon API for multimedia and the Solid hardware abstraction layer give all applications direct access to these functions. An increasing number of more or less useful graphical effects can be found in System Settings under Desktop Effects that leverage the new compositing capabilities of the KWin [8] window manager, for which external composite managers, such as Compiz [9], were used earlier. The visual contrast to KDE 3 is emphasized by the Plasma desktop (Figure 2) with the new Oxygen widgets.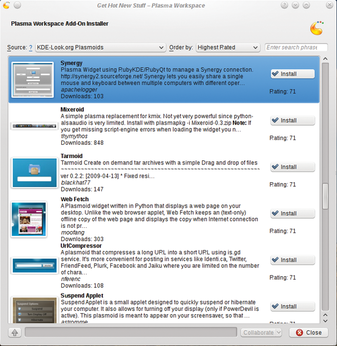 For communication between applications, KDE 4 now relies the D-Bus interprocess communication system [10], instead of DCOP, developed in the scope of the Free Desktop Project. Activities [11] extend the concept of virtual desktops by linking predefined user profiles with the corresponding applications in containers. One Activity can thus include all graphics programs, whereas another provides the business applications a user needs. Moreover, each activity can also use its own mix of miniature programs. Similarly, individual components of an activity can be shared with others.
Another new feature in KDE 4 was the KDE Plasma Workspaces graphical environment [12], which united Kicker, KDesktop, and the widget engine SuperKaramba from KDE 3 into a single application that allows the interface to adapt to a wide variety of device classes and form factors, such as desktops, netbooks, tablets, media centers, and smartphones. Plasma Workspaces include the Plasma Desktop introduced in KDE 4.1, Plasma Netbook created later on, and Plasma Active (for touchscreen-controlled devices).
The Semantic Desktop
The semantic desktop [13] saw another major project set up camp on computers with KDE 4.1. This concept aims to eliminate the disadvantages that arise from storing information available on the computer in various file formats. The semantic desktop seeks to store all metadata in a central database, so it can found easily and linked with the use of ontologies. The KDE project decided to implement the Nepomuk (Networked Environment for Personalized, Ontology-based Management of Unified Knowledge [14]) framework financed by the European Union, and Soprano, which is based on the RDF format. The Virtuoso database engine stores the data.
The KDE developers also published Akonadi [15], a cross-application service for managing data. Application developers no longer need to integrate common functions in their programs (e.g., data management, which is always complicated to create); instead, they only implement an interface to Akonadi. This in turn meshes closely with Akonadi and passes the application data to Nepomuk. This process allows "tags" to be assigned across systems and virtual folders to be created to store the search results from various physical folders.
Nepomuk is under fire from many KDE users and is one of the functions most commonly disabled in KDE because of its wasteful use of system resources for a function that many users consider unnecessary. The choice of the RDF format [16] to store data proved to be a mistake, because it causes excessive load in terms of RAM and CPU on desktop computers. Even on well-equipped computers, the initial indexing often takes several days.
Over the past few years, the developers have optimized this behavior; however, the disadvantages for desktop systems could not be offset entirely. Thus, Nepomuk was regarded as ultimately unfit, and the mid-April release of KDE SC 4.13 included a replacement, Baloo, which does not rely on RDF and thus works faster and makes more efficient use of resources (see the article on Baloo in this issue).
KDE SC version 4.4, published in February 2010, was considered fit for production use. The versions that followed reinforced this status, and from KDE SC 4.10 (February 2013) more than just die-hard KDE fans spoke of the best KDE ever. In version 4.11 Plasma Workspaces were frozen and prepared for next generation KDE SC 5; thus, the innovations featured in KDE SC 4.12 and 4.13 were primarily limited to applications. For example, tabs were added to Okular in KDE SC 4.13 so the document viewer could display multiple documents at the same time. Also, documents gained the ability to scale with the mouse wheel, and Gwenview was given a preview for RAW files.
SC 5, the Next Generation
The next generation of KDE, which will hit the streets some time this year, is based on Qt 5 and is less revolutionary for users than its predecessor. The biggest changes relate to KDE's underpinnings. To increase the confusion of names and terms, the KDE project has chopped up the fairly monolithic KDE Software Collection into three parts: Frameworks 5, Plasma Workspaces 2, and Applications (Table 1). KDE developers are pushing ahead with these three pillars of the future in significantly more independent ways than ever before.
Important KDE SC Applications
| Application | Purpose |
| --- | --- |
| Dolphin | File manager |
| Dragon Player | Simple media player on Phonon basis |
| Gwenview | Image viewer with simple management and processing functions |
| Konqueror | Modular web browser |
| Kontact | Personal information manager with components for email, address, and appointment management |
| Kopete | Instant messenger for various chat services |
| Okular | File viewer for document formats such as PDF |
The release form of KDE SC, which delivers new versions of all components simultaneously, will be dropped in the future. This does not mean that KDE SC 5 components will no longer be released at the same time in the future; it simply means that the developers now no longer need to adhere to this schedule and can organize things differently internally. This gives individual teams more freedom in their development work. It also takes into account the diversification that the shift in focus in the use of different classes of devices (e.g., PCs, laptops, tablets, smartphones) automatically entails.
comments powered by

Disqus
---
Support Our Work
Linux Magazine content is made possible with support from readers like you. Please consider contributing when you've found an article to be beneficial.
---