Building on the efforts of yesterday's makers
Hard Work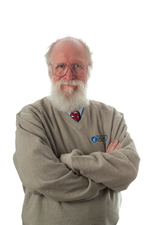 "maddog" takes a quick look at some of the early pioneers of computing.
Recently, I spoke to a group of students at the University of São Paulo in Brazil. The occasion was the 40th anniversary of the university's offering a computer science degree, and my talk gave me a chance to reflect on computing history, how it came about, and how many people today have no idea of the work, effort, and plain brilliance of some of the early pioneers in computing.
It is easy to look back on the computing pioneers and say "Oh yes, of course" and to take their work and brilliance as natural fact, but when you put yourself in their place and try to imagine things that had never been done, it becomes a whole different story.
Many people have heard the story of Charles Babbage and how he tried to make a difference engine out of gears and cams back in the 19th century. A classic case of re-engineering, Babbage never completed any of his machines. But few people know that a couple of years later, a father and son team named Scheutz created a much simpler device of the same type and built two working machines. Soon after that, Martin Wiberg reworked the machine and build an even more successful difference engine.
Throughout history, people with true genius have had flashes of insight and provided the shoulders on which others have stood. However, most of what these people did would have been lost if they had not taken the time to publish their work and share it as far as they could. Even the preliminary works of Alan Turing were in answer to work done by other mathematicians, but they were done (and published) in such a way that groups started experimenting with how to create these early electromechanical devices out of the hardware elements that were available. In today's world, these people would be the "makers," doing the tinkering and the hard work that Edison explained was 99 percent of genius.
As I described the early days of the Unix system, the audience heard (of course) about Thompson and Ritchie, but also about lesser known people, such as Doug McIlroy, who is credited with developing the concepts of pipes and filters, as well as other researchers that contributed to AT&T's Unix. These ideas seldom sprang fully formed from the mind of one person but were instead developed and implemented by teams of people working together, discussing ideas in an open way. Likewise, Unix (and GNU/Linux) would not be where they are today if it had not been for the enthusiastic students and faculty at the University of California, Berkeley, and other universities, companies, and government institutions contributing over the years. Despite their great contributions, it was not Sun Microsystems that wrote Unix, nor even AT&T, but hundreds and thousands of individuals who contributed to the work.
My talk continued with looking at where we are today. Electronics with significant capabilities, such as the Arduino and Raspberry Pi, can be purchased very inexpensively, which allows young makers to create their own products of inspiration and perspiration without having to go deep into debt. For example, a friend of mine, Andreas Olofsson, founded a company called Adapteva and a multicore CPU called Epiphany by utilizing open source tools and methods. He funded a development board called the Parallella by running a Kickstarter program and saw his dream become reality; without those open source tools, however, his path would have been much more difficult, if not impossible.
Today, several really great hardware systems are now sold at very low prices, allowing young entrepreneurs the freedom to innovate. Yet the openness of the systems also allows more people to contribute more perspiration into making existing code and programs more efficient. Whether it's extending the life of a cellphone battery or reducing the number of servers that Amazon needs for their business, by understanding how the systems and applications work and by using more modern algorithms and development techniques, we can get better performance out of the hardware we have and stellar performance out of the hardware of the future.
The last part of my talk described some of the interesting topics that are coming out in the near future and how they need to be completed with Open Standards and Free Software. The Internet of Things, true artificial intelligence, and quantum computing are all topics that will benefit from the inspiration, collaboration, and perspiration of the entire community.
comments powered by

Disqus
Visit Our Shop
Direct Download
Read full article as PDF: