Pale Moon web browser as an alternative to Firefox
By the Light of the Moon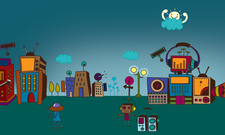 A new browser with familiar technology: The lean Firefox offshoot Pale Moon is compatible with many cherished Firefox extensions.
Although Firefox is still one of the most popular web browsers, its much shorter release cycles and increasing inertia, even on powerful systems, have dimmed the former star's halo. The new user interface, with a look that is strongly reminiscent of Chrome, has also prompted some users to turn their backs on Firefox.
The alternatives have not, however, been totally convincing: Although Linux has a lot of lean and fast browsers with sophisticated operating concepts, Firefox is the unquestioned leader, primarily because of its many enhancements in terms of data protection and security. Some of the add-ons are available for other browsers, but not all: Using Opera, SeaMonkey, Midori, and the like leaves an uncomfortable feeling.
However, all this is about to change, because a new browser called Pale Moon [1] is ready to launch on Linux. Although it's based on the source code of older versions of Firefox, the developers have definitely cleared away some of the ballast. Thus, Pale Moon not only runs faster than the original but also remains largely compatible with Firefox extensions.
Technical
The program is picky when it comes to hardware: For example, the browser only works on processors with at least an SSE2 (Streaming SIMD Extensions 2) instruction set. This instruction set accelerates programs by means of parallelization at the command level. Systems with older Pentium III processors and first-generation Athlon CPUs by AMD are not supported. Additionally, because Intel's Celeron processors are subject to certain technical limitations, the developers provide an overview of which processors cooperate without trouble [2].
To improve the loading and display speed of web pages compared with Firefox, the developers removed several additional functions that Firefox has successively integrated out of the box. For example, there are no automatic updates, and the ability to update manually from within the software has been removed completely. However, the browser reintroduces the download manager, which Firefox had dropped for simplicity's sake. The Pale Moon project lists the differences between the two browsers in detail [3].
Setting Up Pale Moon
Only PCLinuxOS currently has Pale Moon in its repositories; for all other distributions, you need to use the installer offered for downloading on the project website [4]. After downloading the archive, unpack it into a directory and launch the installation routine when you get there by typing
pminstaller.sh
The script prompts you for your password if you are logged in without root privileges.
Continue by selecting Install Pale Moon. Then, choose the version of software you want to install (the latest version at the time of writing was 24.7.2, but see the "Version 25.0" box for an update on, and possible problems with, the latest version). The routine automatically determines whether you are running 32- or 64-bit Linux and what capabilities your computer's CPU offers. Following this, the installer downloads the appropriate version off the web and proceeds to configure it (Figure 1). See the "Installation Tip" box for more details.
An important update to version 25.0 was released October 24, 2014. Pale Moon and Firefox no longer share a GUID (Globally Unique Identifier), which means, "… from an extension point of view, Pale Moon is a 'brand new application' that the extension was not initially written for" [5]. As a result, all Firefox extensions will install, but not all of them will work.
To address this situation, the Pale Moon developers created a "dual-GUID" system that installs extensions that target both the Pale Moon and the Firefox GUIDs. For extensions that specifically target Mozilla apps, these "pseudo-static" xul/toolkit-based extensions will work, but they are not updated, with the expectation that extension developers will add Pale Moon support in the future. However, Jetpack-based extensions will not work, because the Pale Moon GUID is not compiled into the final extension.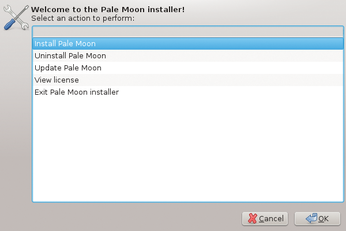 For a faster installation, download the latest version as a binary archive directly from the project website and unpack (e.g., in /opt/palemoon/). To access the browser with no further configuration, type /opt/palemoon/palemoon at the command line.
Configuration
After the install, you will find a Pale Moon Browser – Web browser launcher in the Internet submenu of the desktop. Clicking on it starts the application in the interface typical of Firefox up to version 29. To teach the browser any other language, download the corresponding XPI package [6]; you can then add it as an extension with a single click in the browser.
Next, enter the about:config command in the address line to open the browser's internal configuration table. You will see an entry for general.useragent.locale here; you can change the default value from en-US to your preferred language. After restarting, the software uses the new locale (Figure 2).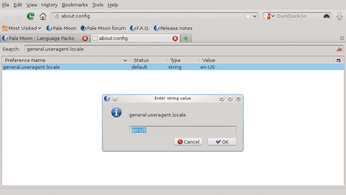 Pale Moon is now basically ready for use. If necessary, you can pad it with extensions and themes. However, not all plugins that are available for Firefox will cooperate with Pale Moon. The reason is that Pale Moon does not include some Firefox features. In our lab, we also noticed that the program displays some extensions incorrectly because of the Australis interface used in Firefox as of version 29.
For example, when you use the Privacy Badger extension – which helps to stop Canvas fingerprinting – you will not see a matching info icon in the address bar. This prevents you from seeing, at the press of a button, who is trying to spy on your surfing habits by means of electronic fingerprinting when you access a website that is trying to track you.
comments powered by

Disqus
---
Support Our Work
Linux Magazine content is made possible with support from readers like you. Please consider contributing when you've found an article to be beneficial.
---