Providing Windows and Linux applications with Ulteo Open Virtual Desktop
Connecting with Existing Infrastructure
User profiles can be managed either in the integrated database or by a connection to a directory service. OVD provides full support for LDAP Server, Microsoft Active Directory, and Novell eDirectory.
To configure the connection to AD and eDirectory you need the domain and hostnames, as well as a login and a password. To connect to any other LDAP service, you also need to define appropriate filters for users and groups and optionally specify OUs (organizational units). User groups can also be queried from the directory service in all cases; alternatively, OVD can continue to manage user groups with the internal database.
Operating Modes
Ulteo OVD provides two operating modes for users: Desktop mode and Portal mode. In Desktop mode, users are welcomed by a familiar desktop display. The applications shared by the administrator can be easily accessed here via a start menu or via shortcuts on the desktop. In Portal mode, however, OVD lists the applications in a tiled display after logging in. This mode is thus of particular interest for tablet and smartphone users because it lets them launch applications without finger fatigue (Figure 3).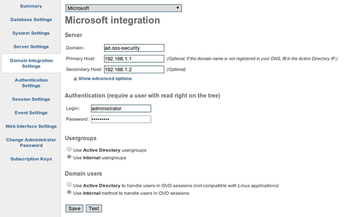 In the Premium version, applications are provided seamlessly. In Portal mode, applications integrate seamlessly with the client operating system and are almost indistinguishable from locally installed applications, given appropriate performance of the network connection. Additionally, this view also offers direct access to file storage on the file server.
System Requirements and Deployment
Ulteo recommends installing the various server roles such as the Session Manager, Web Portal, and Application Server on separate systems, which can also be virtual systems. The Session Manager and Application Server for Linux must run on Linux. Officially, Ulteo supports Ubuntu 10.04, 12.04, RHEL 6.0, CentOS 6.0, openSUSE 11.3, and SLES 11SP1 – in other words, a good number of well-known Linux distributions in their respective 32- or 64-bit versions.
Windows application servers can only run on Windows 2003 SP2, 2008R2 SP1, or 2012/2012 R2 server; the Windows 7 and 8 workstation operating systems are not supported. For Linux application servers, Ulteo recommends an x86 server having a multi- or quad-core CPU and at least 8GB of RAM per 100 concurrent users. For Windows application servers, you will need around 12GB of RAM per 100 concurrent users. Ulteo offer more recommendations for test and production environments online [4].
comments powered by

Disqus
Visit Our Shop
Direct Download
Read full article as PDF: