Treecle organizes and structures information
Subcategories and Formatting
After creating the first few categories, you might want to start organizing your material into sub-categories. Pressing the New Sub-branch button creates a new sub-branch in which you can store additional categories or data. In our lab, I took the opportunity to create various recipe categories (Figure 2).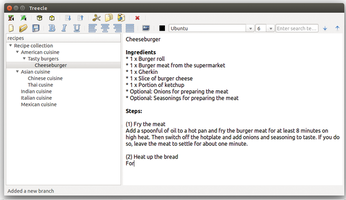 Buttons for formatting the entry were useful for entering text items. For example, you can highlight the text in bold type and change the font, font size, and color. As in any typical editor, you can also change the text justification; however, functions for other ways of representing information, such as tables, are missing.
After storing sufficient information, you can save the current tree by pressing the button with the floppy disk icon; you can load the tree again at any time later. To start the new collection, press the New branch button and save as a Treecle file, as you did with your first collection.
Daily Treecle
During testing, I used Treecle over a period of several days to store a variety of information. The tool impresses with its ability to store data in a tree structure and sort both categories and entries in alphabetical order.
That said, the software is quirky in many parts: After loading a Treecle file, you lose the alphabetical sorting; it seems that this is only a kind of view filter rather than a persistent setting. Additionally, the program lacks a feature for quick saving. Instead, you always need to take the roundabout route via Save file – this is particularly annoying because you need to type the file name again every time you save.
A feature that automatically saves the current dataset at definable intervals would also be a good thing (Autosave). Although the program reminds you to save when you close a Treecle file, there is always the risk of Treecle or the system crashing. In that case, all of your changes since the last save would be lost.
Additionally, although the categories are organized into a tree structure and sorted alphabetically, you can't drag and drop to re-arrange entries within categories. Instead, all of your categories and entries stay in the order in which you entered them.
Conclusions
Treecle demonstrated some weaknesses during testing, but it is definitely fit for use: You can store and manage information of any kind in a neat tree structure. The developer has deliberately kept the tool lean, but that means advanced features such as a PDF export are missing. On a brighter note, Treecle's author is still actively developing the program and was grateful for our suggestions (see the box "Contacting Treecle's Author"). If you are a fan of structured thought and are looking for an approach to storing information in an organized way, Treecle may just turn out to be your tool of choice. To discover more, check out the short FAQ [5] for Treecle.
comments powered by

Disqus
---
Support Our Work
Linux Magazine content is made possible with support from readers like you. Please consider contributing when you've found an article to be beneficial.
---