Five OpenStack solutions tested
Stacked High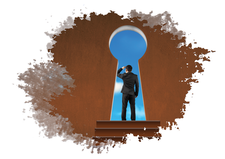 Several companies offer OpenStack solutions for the enterprise. We look at the similarities and differences of offers from Red Hat, SUSE, Ubuntu, Mirantis, and HP.
OpenStack cloud software is an open source enterprise solution for managing large amounts of data in a data center. In this article, we examine the five most important OpenStack providers and compare them in a test. We start with SUSE [1] and Red Hat [2] then take a look at Ubuntu's approach [3]. Finally, we explain what Mirantis [4] and HP Helion [5] seek to do differently.
Red Hat and SUSE
Anyone who wants to try SUSE Cloud first needs a user account from the SUSE Customer Center. Registering is a bit annoying, but unavoidable. The account has three functions: First, the user can register for the SUSE Cloud test subscription. Second, the account enables access to the necessary patches and updates, for which you must register the computer in the Customer Center, as well. Third, it gives you access to the software.
The software comes in the form of three ISO images. Only one is needed for normal operation. The other two contain the source code and the debug info packages. When downloading the software, you can request a registration code, which unfortunately did not work every time in our lab. The Linux distributor in our area then had to step in and provide the missing data.
Anyone who has already decided to purchase will receive a key through the usual channels. The first (mandatory) steps for building a cloud with SUSE were well documented, and fortunately, implementation was pain free.
The procedure for market leader Red Hat appears similar to that described for SUSE. Initially, you need a valid account on the Red Hat customer portal, the successor to RHN (Red Hat Network). Here, too, this allows you to download the software, access updates and patches, and register the software subscriptions for your account. Unlike SUSE, Red Hat no longer offers ISO images for the OpenStack components.
A suitably prepared RHEL 7 fetches and installs the packages via the built-in package manager Yum. The Red Hat customer account is used to enable the corresponding software repositories with the distributor. Of course, the computer needs to be registered with Red Hat, too. A registration key is not required for the trial subscription; you declare your user account with Red Hat with your request. Red Hat then handles your subscription allocation in the background. The procedure is identical to ordering the commercial Red Hat product.
If you have a VMware infrastructure, you can test OpenStack as a prepackaged appliance. In any case, the first steps are clearly and well documented – just as for SUSE. Getting started with Red Hat Enterprise Linux OpenStack Platform (RHELOSP) can mean taking completely differently approaches, depending on your experience. Good documentation is essential for the product's success, which Red Hat provides for your initial steps, along with detailed information for later use. Red Hat defines three roles for cloud operations: the end user, the cloud software administrator, and the main administrator.
Red Hat distinguishes between a product evaluation and an installation in the enterprise environment. This distinction is also reflected in different installation documents. With the instructions for how to perform the evaluation setup, no OpenStack-related knowledge is required. A complete launch on a greenfield site is also possible. If you already have the necessary knowledge, you can either enjoy the review or skip that section, whereas those with no experience who want to start using the SUSE Cloud can avail themselves of the sufficient documentation. As with Red Hat, the Linux distributor from Nuremberg mediated the different roles within the cloud.
SUSE Cloud
The documentation comprises installation instructions and documents for SUSE Cloud administrators and end users. The user can choose between HTML, PDF, or the free EPUB e-book format. Previous knowledge of OpenStack might be helpful, but it is not required; SUSE helps the user from the beginning. Although experts are confronted with a load of redundant OpenStack documentation, it is very useful to have all the necessary information in one place. A reference to the corresponding OpenStack help pages would be a little confusing in comparison.
OpenStack release cycles are a challenge for traditional Enterprise distributors. A six-month release cycle comes up against distribution support periods of 10 years or more. The Linux distributor needs to adapt to accommodate the OpenStack project with its cloud solution. Version 3 – based on Havana – came out in February 2014 and support was withdrawn just a year later. The version 4 is based on Icehouse and will be supported until the end of August 2015. SUSE OpenStack Cloud 5 follows this and is based on OpenStack Juno.
A minimal version of the SUSE Cloud requires three computers (see the Installation section). The associated costs are EUR8,300/$12,500 per year. SUSE provides priority support – that is, support at any time of day or night with a guaranteed response time of one hour. The subscriptions for the underlying SUSE Linux Enterprise Server are also included. This is equivalent to a subscription for SLES 11 SP3 at the time of writing.
Users need to dip into their pockets for additional computers: EUR2,080/$2,500 for each controller and EUR670/$800 per compute node. SUSE invoices compute nodes per socket pair on a physical server. Additionally, you will have the costs of the underlying operating system. It does not matter whether KVM or Microsoft Hyper-V is used as the hypervisor. At least version 5.1 of V-Center is required for integration in a VMware environment.
Clouds do not work without the corresponding data storage capacities, so for a completely friendly setting, you should use the new SUSE storage server [6] product. This is not free, of course. At the present time, 36TB cost $5,000.
Red Hat OpenStack
The significantly different release cycles of Red Hat's own Enterprise Linux and versions of OpenStack affect Red Hat just as they do SUSE. When this article went to press, version 5 of (Icehouse-based) RHELOSP was still current, and version 6 (with OpenStack Juno) had just been released.
Currently, it looks like Red Hat is trying to reduce the support gaps between its OpenStack product and Enterprise Linux. The customer receives RHELOSP version 3 (based on Grizzly) with one year of support in production. The next version, with Havana underpinnings, has already been on offer for 18 months. You can get a full three years of support for version 5, which means that it currently terminates at the end of June 2017.
That is quite a long time if you consider that OpenStack will be five versions further on by that time. The services included depend in detail on the specific agreement with Red Hat. In the simplest case (i.e., for an evaluation), only one computer is required. Red Hat recommends Enterprise Linux 7 as a good base on the operating system side. In principle, version 6.5 is conceivable, too, but not if you are looking to the future.
A valid subscription for the RHEL OpenStack platform also authorizes you to update the underlying in-house Enterprise Linux. The question of how much a cloud by Red Hat costs is not easy to answer. The Red Hat version of OpenStack is "only" a component of the Red Hat Cloud Infrastructure (RHCI). Moreover, the customer needs to buy virtualization (RHEV), system management (Satellite), and cloud management (CloudForms). The pricing situation seems to be so complicated that even Red Hat contradicts itself in its blog posts on the Internet, which talk of prices from EUR3,000/$4,600. Verbose responses to requests for quotations become amazingly terse when it comes to pricing; in fact, Red Hat does not quote a single price. As already mentioned, the Red Hat version of OpenStack is very well documented. This also applies to installation, with a separate entry for the evaluation installation. However, this depth of detail is not absolutely necessary. The documentation online [2] is sufficient in many cases.
comments powered by

Disqus
---
Support Our Work
Linux Magazine content is made possible with support from readers like you. Please consider contributing when you've found an article to be beneficial.
---