Running Windows apps on Linux with PlayOnLinux
Non-Cataloged Apps
PlayOnLinux comes with a catalog of optimally prepared environments for specific applications, but you can also install software that is not in the catalog and have PlayOnLinux manage it.
Click on Install from the main window, instead of picking a category, and click on Install a non-listed program from the bottom left of the Window. A dialog will pop up a warning that the application you choose might not run perfectly (Figure 6). Click Next.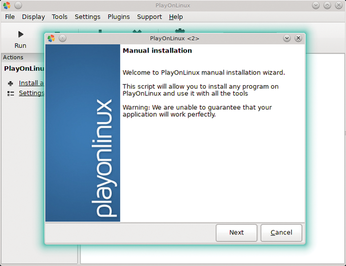 In the next screen, create a new virtual drive for your application and press Next. Depending on the architecture of your app, choose a 32-bit Windows environment or a 64-bit environment. In the next screen, click Browse and navigate to the installer program.
In this case, I will install Lucas Arts'/Double Fine's remastered version of Grim Fandango (Figure 7). From this point onwards, installation is the same as it would be on Windows (Figure 8).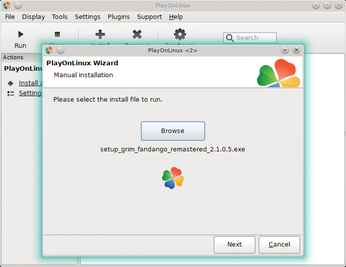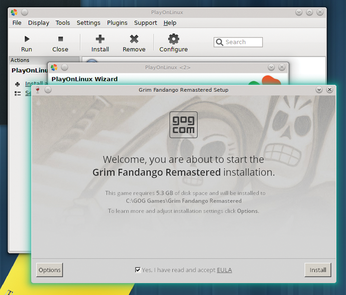 Games like Grim Fandango Remastered need a hefty graphical card with 3D hardware acceleration, so forget about this application if you are running an older system. Also, keep in mind that modern laptops (if that's what you're using) come with more than one video chip: one for the everyday mundane task of running the desktop and another that kicks in when you need fast 3D graphics. Although this switch might happen automatically on Windows systems, on Linux, you often have to set up things yourself.
If you have an Nvidia or ATI card, you should look into installing the correct, official drivers for your model. Check the documentation and forums of your distro to find out which packages to use. If you have an Nvidia card, you should also research the bumblebee project [7]. Then, to make sure the games that require 3D acceleration run correctly, edit the shortcut on your desktop to include the options you need.Right-click on the shortcut PlayOnLinux makes, and choose to open it with your favorite text editor.
Next, modify the Exec parameter to include the options and flags the app will need. (See the example in Listing 1.) Note that line 7 in Listing 1 also includes the optirun modifier to make sure that Grim Fandango runs using Nvidia's 3D acceleration options.
WinRT
Microsoft recently jumped on the repository bandwagon with their own Windows Store [8], an online service that allows you to download and install software from one central hub. In theory, the WinRT layer lets apps developed for one part of the Windows ecosystem, say, for Windows-based mobile devices, also work in other parts – on a desktop computer, for example. You might be wondering whether this universal WinRT layer would also allow a Windows application to run with Wine or PlayOnLinux.
For the record, finding files containing applications that use the WinRT technology is really hard. Most WinRT-enabled apps exist only within the Windows Store, and, although it is possible to use packet sniffers and similar tools to find the URL that points directly to an APPX package file used with WinRT, it is total overkill to go to that much trouble just to play Annoyed Pidgeons, or whatever it's called. And if you install through the Windows Store, the application cannot be extricated and moved to another machine, such as your Linux box. The alternative is to tunnel down into shady websites with direct links to appx files.
So it's hard, and probably not worth the trouble; however, for the sake of science, I tried to get the WinRT environment running through PlayOnLinux, and I did not succeed.
Conclusion
PlayOnLinux is nice, but it definitely isn't a universal solution for achieving full compatibility with Windows. Nor should it be. Beyond rescuing data from the grimy paws of proprietary apps or playing the odd game not yet ported to Linux, new Linux users should educate themselves on native apps that give them the same functionalities as their Windows alternatives. In general, the experience with native applications will make you more productive and make for a much stabler and safer working environment than if you use foreign software.
However, if you do have to run Windows programs, it's nice that the creators of PlayOnLinux have gone to the trouble to build environments that ensure that their catalog of programs works. The catalog, by the way, is always growing with users' and developers contributions. So even if the software you are using isn't in the catalog yet, it might be in future versions.
If you venture outside the catalog, PlayOnLinux does not offer many more advantages than bare Wine; as often happens with front ends, PlayOnLinux can obscure critical information, such as error messages, that could help a user figure out what's wrong with a misbehaving program.
Despite these caveats, PlayOnLinux is well worth the time if you need to run Windows programs in Linux. It's lightweight and fast, and can save yourself a lot of trouble if the application you want to run happens to be in the catalog.
comments powered by

Disqus
Visit Our Shop
Direct Download
Read full article as PDF:
---
Support Our Work
Linux Magazine content is made possible with support from readers like you. Please consider contributing when you've found an article to be beneficial.
---