Monitor your web-based servers with Linux Dash and Cockpit
Cockpit Boss
The Cockpit web interface contains several parts. You will find tools for managing and monitoring the system in the sidebar on the left. The management tools are divided into six sections: System, Services, Container, Journal, Networking, and Storage.
The most important system information, such as CPU and memory usage, hard disk throughput, and network traffic, appears in the System tab as continuously refreshing graphs. You can integrate other servers, restart the system, or switch it off completely. Services shows the services and the current status; Container allows monitoring for Docker containers.
You can track the logs created by Systemd and Journald in Journal. Networking provides data about the incoming and outgoing network traffic, filters network-specific information from the journal (Figure 4), and allows you to create a network bridge or a VLAN. The Storage tab shows the arrangement of integrated hard drives and helps with creating an RAID array or combining several partitions to make one logical volume group.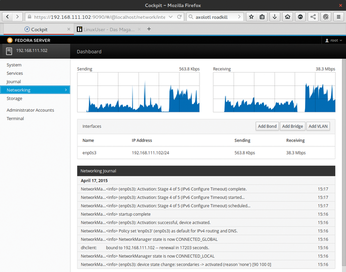 Conclusions
The developer is still working intensively on the fledgling Linux Dash. One big advantage of Dash is its design, which adapts to the display device. Dash copes perfectly with the limited space available for output on smartphone or tablet web browsers.
Beginners with servers should take time to familiarize themselves with Cockpit: it offers the same monitoring functions as Linux Dash, but Cockpit lets you make more radical changes to the system. If you want to use these advanced Cockpit functions in the web interface, you should definitely try them out on a test system first.
comments powered by

Disqus
Visit Our Shop
Direct Download
Read full article as PDF: