Professional music production with Ardour
Conclusions
The code name for Ardour 4.4 is "Discreet Music," which is probably a reference to the record by Frank Zappa. It's also possible that Ardour's chief developer Paul Davis and his team wanted to make clear the kind of music production for which they optimized the software: classical recordings with live musicians at a professional level.
The suite absolutely meets this requirement. Particularly in terms of reliability, Ardour 4.4 has no weaknesses – in around 30 hours of testing there wasn't a single serious problem: not even crashes caused by random editing during operation. (However, please see "Better Safe than Sorry.")
Ardour lets you control very complex operations with just a few milliseconds of delay. However, it is a pretty ambitious thing to attempt and doesn't always work perfectly. The program therefore creates backups in the background so that no more than a few minutes work is lost if the program crashes. You also need to take a few common precautions.
The principle of "Save often, save early" applies as always. So, always press Ctrl+S after making a big change to your project and before performing potentially tricky operations, or go to the menu and select Session | Save. In hundreds of hours of work using Ardour, I haven't had a single issue with reloading a saved session.
The delicate procedures in Ardour 4.4 also include the time-stretch function and inserting plugins or tracks during operation. Both are much safer when operation is stopped. The call for plugin interfaces and their settings was also sometimes problematic in older versions of Ardour; I had no problems in the test with the current version. Rule of thumb: If a plugin works smoothly after installation, the same will apply to when in operation.
In some situations, it is essential that absolutely nothing goes wrong, such as in recording sessions with musicians or when using Ardour as a mixer at concerts. It is worth taking the following precautions in such cases:
Set up all the tracks and plugins before using them and test them thoroughly. Only add more elements when not in operation during breaks at concerts.
Don't make any changes to plugins while a recording is running.
Where possible, always use native mixer elements for adjusting effect signals in the mix (faders from broadcasting channels).
Control effects that are difficult or impossible to implement with the mixer elements by using the automation functions or a MIDI/OSC remote control.
Ardour's mixer provides extensive options for the last two points. You can, for example, place special effects on a broadcasting bus and mix them using the fader without having to touch the interfaces of the plugins involved. From Ardour 4 onward, it is possible to automate discrete switches in the mixer so that you can also switch plugins on and off without using the mouse. Additionally, you can control each action in the mixer using MIDI and OSC signals (Figure 9).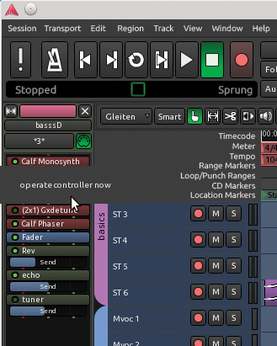 The beautiful, new interface and the well-conceived, functional extensions are another good reason to download Ardour 4.4 from the Ardour website as soon as possible. The donation of at least $1 is certainly a good investment.
comments powered by

Disqus
---
Support Our Work
Linux Magazine content is made possible with support from readers like you. Please consider contributing when you've found an article to be beneficial.
---