LibreOffice Online and ownCloud
Mobile Devices
The developer version does not look good on mobile devices. The iPhone showed the ownCloud web interface in Safari and allowed access to folders, files, and shares. It was possible to edit them and to provide links to others (Figure 7). Access to Activities and the Gallery worked well.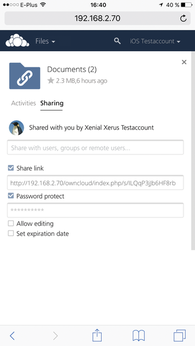 Although we were wowed by the responsive design up to this point, the positive impression faded after selecting Collabora Online. The icons for each of the files were much too large, did not scale, and did not look good even in landscape mode. Creating new documents and editing existing ones also failed to work reliably. Although we succeeded at times, the rotating loading circle displayed permanently at other times.
The results on the Android tablet were slightly better. The built-in browser had no chance whatsoever, but the Chrome app at least opened the ownCloud web interface, as well as Writer, Impress, and Calc documents. Editing was slow and prone to error, however (Figure 8).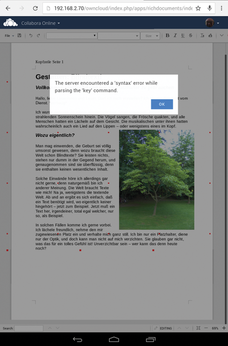 What Remains
Although ownCloud introduced versioning in version 4, it was disabled in CODE. Precisely this feature, however, should be LibreOffice Online's unique selling point compared with others. If the developers unlock this function in the stable version, it will be the killer feature – and it even keeps an eye on quotas. By default, ownCloud never uses more than 50 percent of the free space for older file versions.
All told, the developer version left us with a positive impression. Having two proven programs work hand-in-hand is a good idea. Thanks to ownCloud, LibreOffice Online has stable underpinnings and a framework that reliably handles administrative tasks. When this issue reaches the newsstands, the first stable release of Collabora Cloud Suite should be just about released and will hopefully fix the bugs discovered in our tests. In any case, the features listed on the roadmap [9] make you want more.
comments powered by

Disqus
Visit Our Shop
Direct Download
Read full article as PDF: