Inventory software on Linux
Virtual Machine
If your users rely on something other than the certified Linux distributions, you can still use opsi in a virtual machine on one of these systems. In our lab, the current version ran without any problems in VirtualBox on a host computer with Linux Mint 18. However, pay attention to installing the network correctly: The VirtualBox LAN options must be set for network bridge operation.
On the VirtualBox machine, the opsi server is set up in a general way when first launched and adapted to the network infrastructure using multiple ncurses dialogs. Authentication credentials need to be created for the users root and adminuser.
After rebooting the virtual machine, adminuser logs on to the system, launching a fully customized, very lean Lubuntu system. In a browser window, which also opens, you see instructions and links to the very useful and comprehensive 350-page manual, which explains the further configuration steps and use.
To call the opsi client management system, you need to enter the address https://<your_Opsi_server>_IP:4447/configed.jnlp in your browser. It should be noted that the corresponding website is only rendered correctly on any computer on the intranet if the IcedTea-Web extensions are already installed; as an OpenJDK plugin, these extensions allow the execution of Java applets in your web browser. These can be found in the software repositories of popular Linux distributions; however, distributors tend to use different names, so more research might be required depending on the distribution.
It is easier to call the page on the opsi server: To do so double-click the opsi-configed launcher on the LXDE desktop. This opens the server configuration interface (Figure 3).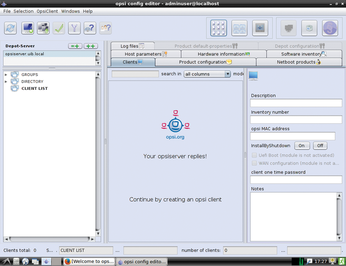 Windows Clients
As the first step for working with the opsi CMDB system, you need to acquire the client data. If your server lives in a Windows environment, then you first need to install the opsi client agent on your Windows clients [12]. To prepare the client agents on computers without a PXE boot option, first download the opsi client boot CD-ROM as an ISO image and burn it on a CD-ROM [13].
During the download, keep the hardware architecture in mind: The ISO image is available in versions for 32-bit and 64-bit architectures. After launching the correct client agent CD-ROM, you can then integrate the respective Windows clients with your opsi universe.
Linux Clients
According to the manufacturer, an agent is under development for Linux that will support automated operating system installation, and the installation and configuration of software applications, in addition to the inventory function. Parts of the Windows agent are portable to Linux; other components need to be developed. This client agent for Linux will then be offered as a commercial extension of the opsi server that is being created in cofunding with customers. For users with up to 500 clients, the charge is around EUR2,200 (~$2,300) [14]. For larger installations, you need to ask the manufacturer about the price.
comments powered by

Disqus
Visit Our Shop
Direct Download
Read full article as PDF: