An elegant and simple Arch Linux-based distro
Konsole Configuration
Despite the flowery desktop and aforementioned Octopi GUI front end for Pacman, command-line lovers can still enter terminal commands. You can do this either from KDE's default Konsole terminal emulator or with the far cooler Yakuake. This drop-down terminal emulator functions in the same way as Konsole, but it can be launched by pressing F12 at any time, similar to the chat feature in classic first-person shooter video games.
Although I encourage you to find a KDE equivalent, Gnome users may want to pull up the Terminal when first installing Chakra to install some more familiar apps. Because Chakra follows a rolling release model, you should first update your packages post-install with:
sudo pacman -Syu
Once your system is updated, search for your favorite apps using
pacman -Ss <keyword>
For example, to search for Thunderbird (Figure 4), use the following command:
pacman -Ss thunderbird
This will list any package containing the text. You can install packages using:
sudo pacman -S <name>
Connecting Chakras
Although you can install others, Chakra's web browser of choice is the lightweight QupZilla, which uses the Qt Application Framework. QupZilla has excellent standard features that you'd expect in a web browser in that you can browse the web and bookmark pages; there's even a handy Speed Dial page for your top websites, similar to that used by the Opera browser.
Under the hood, QupZilla is privacy conscious (Figure 5), as it has built-in Adblock, and the default search engine is DuckDuckGo, which unlike some of the major players doesn't log your search results or IP address. This is also beneficial to the Chakra Project, which shares in the revenue gained from users implementing DuckDuckGo itself.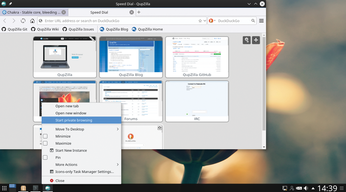 Your web browsing experience is supplemented further with the KGet download manager, which allows you to pause and prioritize downloads, as well as resume interrupted connections in most cases.
The Chakra wiki states that KGet also supports downloading files via BitTorrent [9], although I wasn't able to get this working in our tests. Fortunately, you can easily install a client, such as qBittorrent, using Pacman.
The default mail client is the lightweight and functional KMail, which should come as no surprise to KDE users. For Linux users who are used to Gnome, there's a KDE-specific version of Thunderbird available in the Chakra repositories, too.
Another noteworthy feature of Chakra is built-in support for instant messaging (IM). While the more well-known, Gtk-dependent Pidgin is notably absent, this is more than made up for by the integrated Konversation IRC client. Chakra also includes Kopete instant messenger, which supports other protocols such as Jabber and Yahoo. Once you've configured an account, you can change your IM settings and see notifications from the system tray.
Singing Chakras
For music playback, Chakra uses the Clementine music player (Figure 6), which supports a wide variety of audio formats, such as MP3 and Ogg Vorbis, providing detailed track information. Playback can be minimized to the system tray, so you can listen to music as you use other applications if you prefer.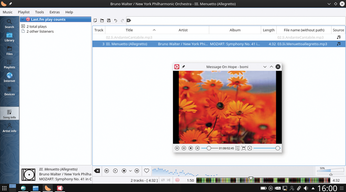 Those users who still prefer to buy music on CD will find that Clementine also supports playback from disk.
Video playback is provided by the bomi media player (formerly CMPlayer), which is easy to use, and is based on mpv for Linux (Figure 6). Although not as fully featured as giants like VLC, bomi does support playback of common video formats, such as WMV and MP4, and can even play DVDs. It also has no trouble with common subtitle formats and can juggle audio tracks [10].
Head over to Applications > Multimedia to view Chakra's other bundled media-centric programs. These include K3b for disk burning and Kdenlive for video editing.
comments powered by

Disqus
Visit Our Shop
Direct Download
Read full article as PDF: