Graham tears himself away from updating Arch Linux to search for the best new free software.
FOSSPicks
Sparkling gems and new releases from the world of Free and Open Source Software
Photo processor
Luminance HDR 2.5.0
Over the past few years, the once specialized effect of HDR-style photography has become mainstream. From estate agents using HDR to add refinement to their interior images, to the latest movies and games using HDR to add impossible levels of detail – even smartphones casually include pseudo-HDR modes with their cameras. And yet, generating real HDR output is still a relatively complex and convoluted process. You need a camera that supports exposure bracketing, and ideally, RAW output: The open source Magic Lantern firmware for many Canon EOS camera adds this facility. You then take a set of photos at various exposures, from underexposed to overexposed, usually from a tripod because of the shutter speed. Software first aligns the images and then combines them into a special kind of data set that combines these exposure values alongside the standard details. Finally, additional clever algorithms are used to apply tone maps for the new composite image and to generate the final output.
My favorite image processing tool, Darktable, recently added the ability to stack and combine images with different exposures to produce excellent HDR output. It's the easiest way I've seen to generate this effect, and it's wonderful being able to create HDR from the same application you use to change exposure and shadow brightness. Darktable, however, doesn't offer in-depth control over any of the separate steps, such as alignment or how tone maps are processed. That's why this major update to Luminance HDR is so significant. Version 2.5.0 comes more than three years after 2.4.0, spanning the huge growth in HDR photography. It's possible that this growth is partly thanks to Luminance being open source, as it has had a major part in making previously costly HDR processing so popular. Luminance is a one-stop tool that will load a stack of RAW images, calculate the alignment even when the camera has moved, and let you apply all kinds of tone maps before rendering the final output. And, it does this without relinquishing user control. It can be difficult and unpredictable, but it's also capable of producing the best results.
The latest version still starts with the image import wizard, which steps you through adding the bracketed image set as well as alignment, if required. You can change the image exposure and create common profiles for setups you want to recreate. You're then dropped into the main application window, which now works well with high DPI screens and even has a dark theme for us vampires. Most significantly, there are two new tone maps: ferradans and mai. Tone maps are intrinsic to the way HDR works and looks, because they map the potential colors in the photo stack to what you see on screen. As such, they define the character of the output. The two new tone maps are excellent. Mai doesn't have a single additional operator and yet generates excellent output, and ferradans is almost as easy to use. These tools are just the tip of the iceberg. The release has many more new features and everything feels a lot quicker than earlier versions, keeping Luminance HDR at the top of its game.
Project Website
http://qtpfsgui.sourceforge.net/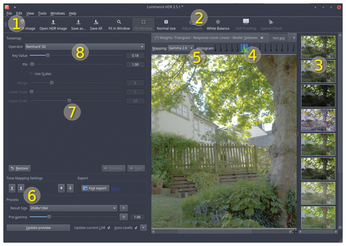 Console maps
comments powered by

Disqus
---
Support Our Work
Linux Magazine content is made possible with support from readers like you. Please consider contributing when you've found an article to be beneficial.
---