Sparkling gems and new releases from the world of Free and Open Source Software
PulseEffects
One of the reasons PulseAudio has finally become the de facto default audio system for Linux is because its complexity is hidden. For most users and most distros, audio just works, and it doesn't matter that PulseAudio is making the magic happen. This is perhaps why now is a good time to revisit some of PulseAudio's complexity and attempt to roll some of its more advanced capabilities into the standard Linux desktop. One of these capabilities is that PulseAudio makes it easy to plug a process or effect directly into the audio stream, much as you would with JACK. Unlike JACK, however, you don't need any special drivers, and applications don't need to have any awareness of what's happening. Effects are simply slotted into the list of input and output devices (sinks and sources in PulseAudio terminology) and used just like any other device.
This is exactly what the excellent PulseEffects does. In a single, self-contained application, it adds an incredibly useful suite of audio effects that are just as applicable for incoming audio as outgoing audio. And thanks to PulseAudio, it can process either or both. The effects include an input limiter and compressor, which can be used to amplify quiet sounds and compress the dynamic range of a source, reverberation to add an echo/room ambiance to audio, and a graphics equalizer, which is used to boost or attenuate specific audio frequencies. Each effect has its own presets, and global presets and switches can be used to process input and output audio independently. Conveniently, those PulseAudio input and outputs can be activated directly from the application, rather than having to use a different PulseAudio mixer or command line, making this perfect for processing everything from Spotify to your Hangouts conversation.
Project Website
https://github.com/wwmm/pulseeffects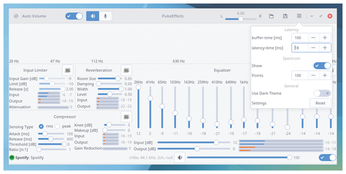 Password manager
KeePassXC 2.2.0
KeePassXC is a community fork of the slowly evolving KeePassX (which itself is a cross-platform port of KeePass). These are all important projects, but quick-fire updates and new features that go into this C community version means it's more likely to attract new users and keep old ones. It's amazing how proliferate password manager releases are becoming. This is obviously a good thing because it means plenty of people are now taking their passwords seriously, but it's not ideal when there are so many options with so many developers potentially reinventing the same wheel. If there were a candidate for one password manager to rule them all, then KeePassXC would be a genuine contender – not least because great updates are coming thick and fast.
This release is the perfect example, as it adds some major new features. Top of the list is auto-type, which is a way to automate a sequence of key presses to get around the vast number of non-standard security input mechanisms. This means that, in theory, KeePassXC can be made to work with any website that benefits from accessing personal and secure information stored in your KeePassXC's database. The new Diceware password generator is also the best I've found, especially when you switch from password to passphrase mode, which lets you create a semi-memorable phrase containing as many words as you want and is much more usable than 15 or 20 randomly generated characters, even when they're entered into websites automatically. On top of these two major features, this release includes a command-line interface and a time-based one-time password (TOTP) generator. The latter is now used to add two-factor authentication to many sites, including Google and GitHub, and having a desktop alternative to the authenticator app many of us run on our phones gives us a handy backup.
Project Website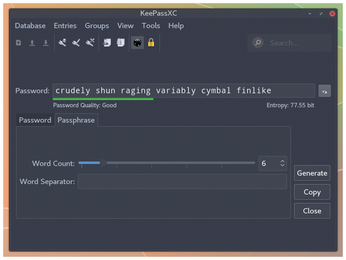 comments powered by

Disqus
---
Support Our Work
Linux Magazine content is made possible with support from readers like you. Please consider contributing when you've found an article to be beneficial.
---