Crowd Supply's roadmap to success
Obstacles to Open Hardware Development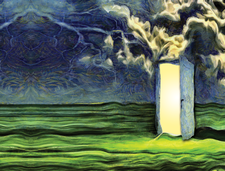 Crowdfunding open hardware makes it easier to realize your dreams, but the road to success has obstacles.
Thinking of developing an open hardware product? Thanks to crowdfunding, your ambition is now within reach. You may not found the new Red Hat, but you can realistically hope to be successful at making a living doing something you are passionate about. However, between your dream and its realization are numerous obstacles, as Joshua Lifton, the founder of Crowd Supply, points out (Figure 1).
Crowd Supply [1] is a crowdfunding site like Kickstarter [2] and Indiegogo [3]. The difference is that Crowd Supply is not simply a place to raise funds. Specializing only in physical products, Crowd Supply advises its clients on business plans, offers fulfillment services and marketing, and acts as a reseller for released products (Figure 2). Open hardware is one of the site's top-level categories [4], and an open hardware credo is offered on the About Us page [5]. Lifton's boast is that, with this support, all campaigns on Crowd Supply that reach their goals deliver a product.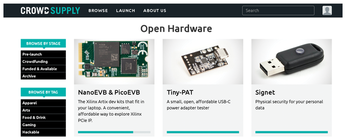 In the five years of Crowd Supply's existence, Lifton has become a close observer of open hardware and is optimistic about its future. "The open hardware market has picked up a lot of steam in the last few years," Lifton says. "I think the best analogy I've heard compares today's open hardware market with the open software market of the 1990s – no one quite knows what's going to happen, but a lot of exciting things are happening and the future is unwritten."
Lifton sees two main reasons for the growing popularity of open hardware. First, he cites Bunnie Huang's keynote at the RISC-V workshop [6] to the effect that Moore's Law – the tendency of computer chips to double their capacity every two years or so [7] – is slowing down after years of being a rough truism. Consequently, "developers have more time to work on and create open hardware before the underlying chipsets and technologies become obsolete." Since open hardware is often modestly funded and tends to develop at a slower pace than proprietary products, this change means that open hardware "actually has a chance at competing against proprietary, well-funded products" for the first time."
Second, security and privacy are becoming a consumer concern, and no longer evoke jokes about "tinfoil hats." Today, there are notes of agreement and shared anecdotes of missteps and overreach by governments and corporations. Most people still don't know what to do about it, or are perhaps unwilling to sacrifice the conveniences afforded by insecure, prying technologies, but the tide is turning. There are only so many times consumers can find out about a debacle like Lenovo's Superfish malware [8] before they take their trust and money elsewhere. "What all of this means is that there is both the competitive advantage and demand needed to fertilize a healthy market for open hardware, which promises to address these growing concerns."
Avoiding Failure
"Crowdfunding and open hardware go hand in hand," Lifton adds, "but there is nothing magical about either – they are simply modern versions of the millennial-old art of selling a product to people who need it." Realistically, many – even most – open hardware products are likely to fail, not because there is anything wrong with the products or with open hardware, but because most new products fail. "Open hardware fails for the same three reasons any product fails," Lifton observes: lack of demand, failure to reach the right audience, and poor execution.
Like any product, open hardware development needs to follow the steps summarized on Digi-Key's Maker.io site (Figure 3): concept, research, evaluation, design, prototyping, funding, marketing, production, distribution, and support [9]. Omitting one of these steps, doing them in the wrong order, or skimping on one can be enough to sabotage your efforts. Moreover, since many open hardware developers are either amateurs or experts in only some of these areas – often, just research and design – the chances of under-emphasizing some of these steps is often high.

For example, Lifton says, "Assuming you get to the point of actually launching the product as a crowdfunding campaign, there's the very public success or failure of meeting your funding goal or not. However, even not meeting your funding goal is a type of success – you learned that the product you offered isn't the right one. If that's the case, the real failure would be to ignore that data point and continue to pour money and time into the project without changing anything else."
Conversely, "If you do meet your funding goal, there's the question of whether you actually raised the right amount of money. If your pricing and cost structure isn't right, you might actually lose money on every sale, so the more you raise, the worse off you'll be."
Yet even a successful fundraising campaign does not automatically mean that the product will be delivered. "It's not that things might go wrong," Lifton observes, "[But that] they definitely will go wrong and you've got to plan for that." The Keyboardio blog [10] and the EOMA68 campaign updates [11] are harrowing reminders of how much can go wrong, especially when dealing with manufacturers for the first time.
Moreover, even delivering a product may not be enough. "Did you deliver it on time?" Lifton asks. "Is the product so late that it's already obsolete? Now that customers finally have the product on their hands, do they actually like it? Do they like it enough to merit a second version? Do other people use your product as the inspiration or foundation for other great products?" For example, the Novena Open Laptop [12] became the basis for several projects, including the CrypTech hardware security module [13].
However, regardless of the actual problem, Lifton identifies seven "tell-tale signs that a project might fail." Briefly, they are:
Hubris of the team
Unclear or unknown pricing and cost structure
Too broad of a target market
Disregard for the competition
Lack of technical knowledge
Optimism about timelines
Greed
To help clients avoid these problems, Crowd Supply has posted a guide for clients at each step of the way, ranging from high-level planning, such as how to decide whether to work with off-shore manufacturers, to the routine tactics for working with other businesses [14].
Asked how to avoid the usual obstacles, Lifton's first advice is do the opposite of all his tell-tale signs. He warns, too, that "the people working on the project should be the people who came up with the idea." He adds, "Ideas are a dime a dozen, so execution is everything. There is no wildly successful product that had never been thought of before. The difference is simply the execution."
The Unfolding Roadmap
A significant number of open hardware projects has only existed for a few years, so the means to success is still being worked out. There are simply too few data points to create a definitive roadmap, and too many differences from conventional hardware manufacturing. However, the gaps are starting to be filled in by sites like Crowd Supply.
Following the advice of Lifton – or anyone else – is not a guarantee of success. However, entrepreneurship of any sort is a calculated gamble, and open hardware production is no exception. Resources like Crowd Supply are starting to become available, and, used carefully, they might just be enough to tip the odds in your project's favor.
Bruce Byfield is a computer journalist and a freelance writer and editor specializing in free and open source software. In addition to his writing projects, he also teaches live and e-learning courses. In his spare time, Bruce writes about Northwest coast art. You can read more of his work at http://brucebyfield.wordpress.com
comments powered by

Disqus
---
Support Our Work
Linux Magazine content is made possible with support from readers like you. Please consider contributing when you've found an article to be beneficial.
---