Sparkling gems and new releases from the world of Free and Open Source Software
System monitor
Sysdig
When it comes to system monitoring, most of us have our own regimen built around the simple tools typically installed on most Linux systems. But sometimes, it helps to have all these tools wrapped into a single package, and that's exactly what Sysdig attempts to do. It's capable of watching raw network traffic and monitoring processes and filesystems as a stream of activity that you can either watch as raw data, save for later, or process with a command-line GUI. You can then filter and focus just as you might with an individual tool. Sysdig uses a kernel module to perform this magic, and the default installation is via curl with root privileges. You obviously don't want some random code shuffling through your kernel and your clock cycles with that kind of power. Therefore, I'd strongly recommend that anyone installing this on anything other than a test system should take a look at the source code or at least find a package from a maintainer you trust.
One target platform for Sysdig is the world of containers; it includes Docker monitoring, alerting and troubleshooting with Kubernetes, Mesos, and Swarm integration, so a level of isolation may be tolerable. By default, running Sysdig will throw a flow of system activity to your terminal that can, for example, be saved or filtered with arguments to show network connections. For general use, though, it makes better sense to run sudo csysdig. This command presents the data through a very useful and rather easier-to-handle curses interface. Pressing F2 cycles through the various monitoring modes, from processes and threads to running containers and Kubernetes controllers, which is ideal for remote servers, especially when monitoring both network traffic and the processes using the connections.
Project Website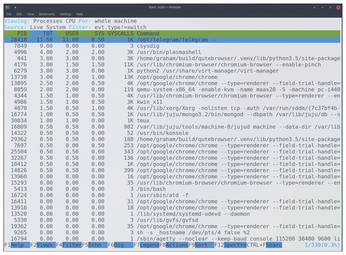 Profile eye candy
comments powered by

Disqus
---
Support Our Work
Linux Magazine content is made possible with support from readers like you. Please consider contributing when you've found an article to be beneficial.
---