Graphical tools for firewall configuration
Simple
The Gufw program window is simple and therefore self-explanatory (Figure 9). The firewall is switched on and off by a slider, and, much like firewalld, the system works with profiles that contain different rulesets. This strategy proves to be particularly interesting for users who use Gufw on their laptops, because the device accesses different profiles depending on the type of Internet access.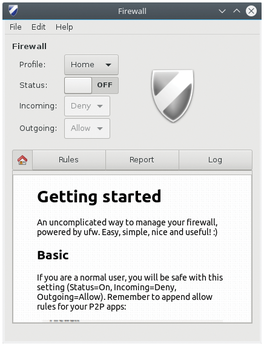 In the program window, you also use various functions in a table: The Rules tab lists the active rules; the Report tab shows details of the data transfer. The Log tab lists the function log of the firewall in a table and shows the usage history.
Modification
Profiles already exist that can be adapted or supplemented. To do so, click Edit | Preferences to bring up a dialog in which to create new profiles and modify the corresponding protocol function that individually defines the scope of the history (Figure 10). You can create the rules for the respective profiles in the Rules tab in the primary program window.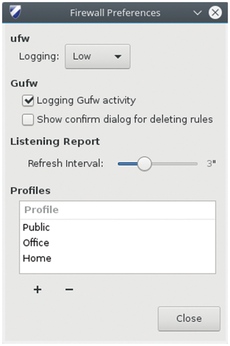 A new rule is added by clicking the green plus symbol in the lower-left corner to open a new window. The application filter is immediately noticeable in the window; it predefines useful settings, especially for certain games that require special ports to be enabled for smooth operation. These ports are already stored on the firewall so that you can immediately adopt the appropriate rules.
However, I recommend that you create your own profiles for such applications. When many occur in a default profile, it is a guaranteed security risk, because the firewall keeps specific ports for incoming and outgoing data packets open at all times, even in regular operation.
Changing rules is easy, as well: Select the rule to be changed and left-click the button with the gear icon. In a new window, make all the necessary adjustments in a few selection and input fields. When finished, activate the new settings with Apply and close the window.
On Record
Gufw displays the firewall's history logs in the Log tab. You can save the logs for later documentation and testing purposes, even if only on the clipboard, by clicking on the Copy to Clipboard button located below the display area when the Log tab is active. Next, paste the log into an editor and save the file. Using the adjacent button, delete logs if necessary.
comments powered by

Disqus
Visit Our Shop
Direct Download
Read full article as PDF: