Car NOT Goat
Acid Test
The training phase starts in line 22 by calling model.fit(). It defines 100 iterations (epochs) and a batch size of 100, which defines that only after 100 training values should the neural network adjust its inner weights with the collected information. From line 25, the script visualizes whether the training was successful or not: For all possible door combinations, line 30 calls the predict() method to pick a door according to what the network has learned so far. Lo and behold, Figure 4 actually shows that the computer selects the alternative door each time, thus letting the candidate switch to increase their chances of winning in the most optimal way, as the mathematical proof also shows.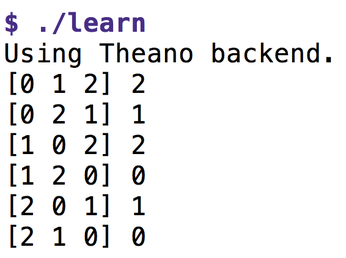 This is remarkable, because the network does not know the mathematical correlations, but instead only learns from empirically obtained data. The input data are even somewhat ambiguous, because switching only leads to success in two thirds of all cases. If you forge the input data and hide the prize behind the alternate door every time, the network's internal success metrics rise all the way to 100 percent, and then the network is absolutely sure.
Even if we feed real-world data into the network and the candidate loses in a third of all cases using the switch method, the network optimizes its approach and ends up switching most of the time, with the occasional outlier. Also, if you vary the parameters of the network, for example, the number of epochs or number of neurons per layer, results might vary. As always with these kinds of problems, it's just as much art as science with lots of wiggle room to train an artificially intelligent system successfully.
comments powered by

Disqus
Visit Our Shop
Direct Download
Read full article as PDF: