A customizable Linux distribution with MiyoLinux
Configuration
Openbox is one of the most configurable window managers. To avoid system administration being restricted to manually editing text files, the developers of MiyoLinux have integrated two configuration tools into the system, which combine several otherwise individual dialogs. Under Applications | Preferences, you will find settings for the tint2 panel bar, mouse, and keyboard, as well as appearance and energy management.
Further setting options are distributed among various subfolders, so sorting of the individual tools is somewhat confusing. It is much easier to configure the system by right-clicking on the desktop. Select the MiyoLinux Control Center option from the resulting context menu. The tool structures the individual dialogs in the tabs Appearance, Configuration Files, System, and Miyo Accessories.
The dialogs not only combine the tools already known from other subfolders in the Applications menu, but also introduce additional options. Under System, you will find the Language Selector, which allows a partial adaptation to other locales. The same tab also contains the MiyoLinux Panel Switcher, which replaces the tint2 panel with either the Xfce4 panel or a LXPanel at the push of a button. Neither use PCManFM as the application starter for scripts, but rather a conventional menu hierarchy (Figure 4).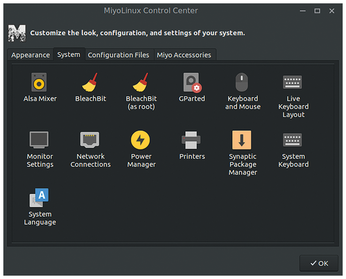 The Conky Controls and Compton Controls dialogs in the Miyo Accessories tab can be used to enhance the desktop visually with various effects. The system comes with the Compton composite manager, which you can activate by clicking the On button. This turns on various desktop effects, such as shadows around each window or the darkening of inactive windows. You can switch the Conky system monitor on and off in the same way. It displays data such as time, date, RAM, CPU, and hard drive usage at the bottom of the desktop.
Because of the lean design, neither effect leads to noticeable performance losses. Together with an individual adjustment of the appearance, however, they turn MiyoLinux into a real eye-catcher.
Conclusions
The young MiyoLinux shows the potential of older window managers like Openbox. By combining numerous lightweight programs, MiyoLinux is every bit the equal of its bigger siblings. Although it is missing a few of the space guzzlers available through heavyweights like KDE, Gnome, and Xfce, MiyoLinux integrates many smaller tools and is a viable alternative for older hardware environments.
Devuan provides a solid foundation for MiyoLinux and provides a ready-made solution for distros to keep using System V.
comments powered by

Disqus
Visit Our Shop
Direct Download
Read full article as PDF: