FOSSPicks
Thunar 1.8.0
Xfce is often a little neglected as the world rages on about the current state of the Gnome and KDE desktops, but it has remained a quietly brilliant desktop environment for many years. The application at the heart of its effectiveness is the humble file manager, Thunar. What's great about Thunar is that it works and looks just like file managers of old, and it has what many people consider the default file manager functionality and appearance. The device list is on the left, network places beneath, and a main view on the right for viewing your files and folders. This view can quickly be changed from icons, to a details list, to a compact list, just like the file manager in a certain proprietary filesystem. But it works, and it's exactly what you need when you want some intuitive multifile selection that you can't easily do on the command line.
This update is a major release for a few reasons. The main reason is that Thunar is now using Gtk+3 rather than the ancient Gtk+2. This toolkit revision is happening across the entire suite of Xfce tools, with Thunar being perhaps the largest component. As with the GnuCash migration to Gtk+3 we wrote about previously, the long process of updating to the new toolkit "future proofs" Thunar and Xfce, as well as helps the UI look slicker whilst retaining its retro feel. But alongside that update, there's also a new and revised path bar at the top, showing breadcrumb navigation for where you are in the filesystem, alongside new Next, Previous, Up, and Home buttons. Small fixes add file sizes in bytes, user-configurable actions for remote locations, and refreshed icons for file transfers.
Project Website
https://git.xfce.org/xfce/thunar/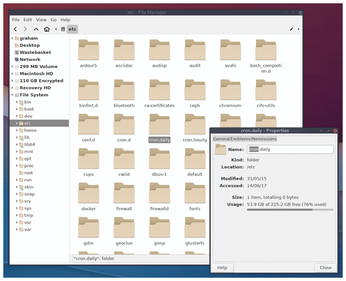 Virtual floppy writer
usbfd
Floppy disk drives are now a distant memory, occasionally revived by the Save icon or the discovery of a stash of disks from storage. But there are old machines that still need to use them. For these, a great solution is to replace the drive itself with a device that emulates a floppy drive via a USB stick. These devices, such as those manufactured by companies like Gotek, are drop-in replacements for the old devices, often plugging into the same old ribbon cable and power supply. They enable old hardware with floppy drives, such as a Commodore Amiga, an old synthesizer, or a variety of scientific equipment, to be brought into the modern era of no moving parts. Even a 1GB thumb drive can store hundreds of floppy disks worth of data.
To store all these disks on a single USB requires a specific and peculiar partitioning regime. The tools for generating this schema are generally old and for Microsoft Windows. Fortunately, the floppy drive emulators can format a USB stick themselves by powering on when their two buttons are depressed. But this doesn't help you if you want to read and write to this USB storage from your Linux computer, which is the whole point of trying to move ancient hardware into the Internet era. Fortunately, this brilliant little tool will save the day. Consisting of no more than a single command, it sidesteps the horrible issue of these devices being formatted as both VFAT and FAT16 with 1,000 separate partitions and lets you simply mount or unmount individual "virtual floppys" from the command line. They're then mounted beneath the /media folder. From there, you can read and write files to the corresponding floppy folder – but remember, 1.4MB really doesn't go far!
Project Website
https://github.com/dennisMe2/usbfd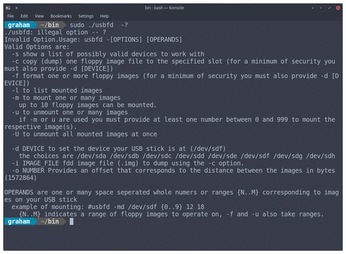 comments powered by

Disqus
Visit Our Shop
Direct Download
Read full article as PDF: