FOSSPicks
FOSSPicks
Graham reviews Thunderbird 60, Stress-Terminal UI, Taskbook, SolveSpace, Star Ruler 2, and more!
Email client
Thunderbird 60
As much as online proprietary services would like old-school email to go away, it's not dead yet. The great thing about email is that it's truly peer-to-peer and open. It enables any of us to run our own mail domain and send and receive messages from our own servers or computers, which causes the major problem with email too – anyone includes spammers, and there are thousands of them. There are solutions to spammers (SpamAssassin and Rspamd), and email is still amazingly useful. In the end, we still need a desktop email client. Roundcube and other online services are great, but they can't compete with the desktop integration and offline access of a proper application like Mozilla's Thunderbird.
Thunderbird used to be the go-to desktop email application, regardless of your operating system and desktop environment. Its development stalled. Fortunately, there was enough community concern for Thunderbird and its pivotal role as one of the only usable open source email clients that development has restarted. This is the first major Thunderbird release under this new regime, and one hopes the first of many as Mozilla rewrites the codebase, drops the old Firefox technologies, and builds an email client fit for the future. This doesn't mean that this release doesn't include lots of updates – it does. After a long period of stable release stasis, version 60 really does contain many new features and fixes. For that reason, it doesn't automatically upgrade from old versions. Keeping with the times, there are now light and dark themes thanks to the use of Firefox's Photon design and excellent FIDO U2F support for two-factor authentication with various devices. There's also experimental support for the conversion between MBOX and Maildir mail storage formats, which is particularly useful for Linux users who have historically started with one and now want to switch to the other.
When composing messages, there are several improvements to the way attachments are handled, allowing you to reorder them. The attachment pane appears when you first start writing an email, along with a hidden but non-empty attachment pane showing a paperclip. You can also remove recipients by clicking on a delete button that's displayed when you move your cursor over the To/Cc/Bcc selector, and you can save a message as a template for other messages, creating them with the New Message from Template command. Native Linux notifications have been also reinstated. Besides these changes, there are lots of fixes that aren't obvious. The calendar now allows for copying, cutting, and deleting across a single or recurring event, and it's now much easier to see event locations in the week and day calendar views. Thunderbird is starting to feel alive again. While there are still some major features we'd like to see, such as integrated and simplified OpenPGP to strengthen Thunderbird's privacy credentials, we're just pleased the project is being worked on at all. Here's to the next release!
Project Website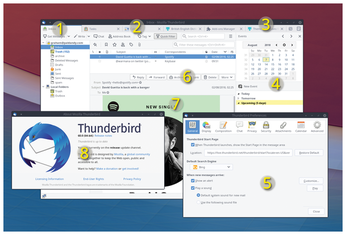 Power monitor
comments powered by

Disqus
---
Support Our Work
Linux Magazine content is made possible with support from readers like you. Please consider contributing when you've found an article to be beneficial.
---