Isolation with Qubes OS 4.0
Debian 9 as a Domain
As described previously, you can install a domain for Debian 9 or the Tor distribution Whonix [13], which further secures Internet browsing and routes all data packets through the Tor network (Figure 6). Switch newly created or cloned AppVMs from Fedora 26 to Debian 9 through their settings. To make this change, the AppVM must be inactive. After restarting the domains, Debian packages and commands will be available in the AppVM (Figure 7).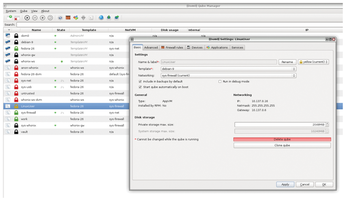 You can also set up Qubes OS to multiboot with Linux and/or Windows. However, this undertaking is not entirely trivial and requires special attention. The developers actually advise against dual booting in the project documentation [14]. Qubes feels most comfortable as the sole ruler of the hard disk. By the way, the distribution refuses to install in VirtualBox.
Conclusions
Qubes OS in combination with the anonymizing Whonix probably offers the most secure operating system on the market. In combination with a Purism Librem notebook, security is further increased by using coreboot, TPM, and kill switches. For security enthusiasts and other users who take security seriously, Qubes OS is a powerful alternative.
Qubes is not designed for Linux newcomers: The system is still far away from the stated goal of developer Joanna Rutkowska to make the system as easy to use as Ubuntu. At the moment, Linux professionals will still need a few days to familiarize themselves with the system. For Qubes OS 4.1, the team is working on its own GUI domain, which should reduce the size of dom0 and thus further reduce exposure. In addition, the distribution will someday support other hypervisors, such as KVM.
comments powered by

Disqus
Visit Our Shop
Direct Download
Read full article as PDF: