At the First Click
Charly's Column – Adminer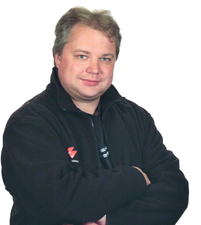 Sys admin columnist Charly freely admits that he doesn't like SQL and phpMyAdmin any more than he does COBOL. Instead, meet his new best friend; the slim, attractive database tool known as Adminer.
When I was young and AIX 4 was in its infancy, we had a full-time database administrator at the data center who could not only recite the whole SQL command set forwards, but could also type it backwards. Behind his back, the trainees called him GRANT [1] father. Fortunately, I didn't inherit his job, because on my popularity scale, SQL ranks at about the same level as COBOL – I learned both once, and I try hard not to use either.
But unlike Cobol, SQL often sticks to the sole of my shoe like a piece of old chewing gum. So, I was looking for a tool that makes the most common SQL operations easier for me and isn't called phpMyAdmin, because I don't like that much either. I hit the bullseye with the tool I found: Adminder [2]! To my mind, this tool gets just about everything right.
First, there is the size. The variant with more than 40 languages gets by with about 470KB. If I limit myself to German or English for the program interface, this drops to hardly more than 300KB. The next surprise: I didn't have to unpack anything, because Adminer consists of a single PHP file. I copied it to a management server on the internal LAN. Adminer users need to go through LDAP authentication just once. Its maker, Jakub Vrána, does not recommend installing the tool directly on the database server.
Minor Interventions
The selection of databases that Adminer understands should be sufficient for most admins: MySQL, MariaDB, PostgreSQL, SQlite, MS SQL, Oracle, Firebird, SimpleDB, Elasticsearch, and MongoDB. Plugins are available from third-party sources, for example for managing Moodle or WordPress databases.
However, I don't need anything like that. I'm usually just doing annoying everyday repairs. For example, when a field in a database is limited to 128 characters, but I want to accommodate 200 characters. Or another common task: I need to quickly add another field to a table. This means that I am only using two percent of Adminer's feature set. But it is simply a pleasure to work with Adminer, and the pleasantly simple design maximizes the fun (Figure 1).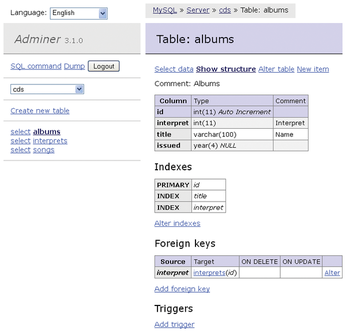 I could even create functions and stored procedures with Adminer – but I prefer to take a more hands-off approach than that. When I'm faced with difficult tasks, I prefer to ask one of the trainees from back in the day, the one they now call GRANT father behind his back.
comments powered by

Disqus
---
Support Our Work
Linux Magazine content is made possible with support from readers like you. Please consider contributing when you've found an article to be beneficial.
---