Editing PDF Structure with QPDF
Command Line – QPDF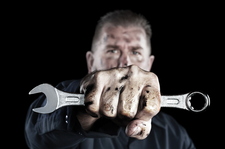 Use QPDF to easily make structural changes to your PDFs, including reorganizing pages, creating watermarks, setting encryption options, and changing permissions.
QPDF [1] is a structural editor for PDF files. This description places it in a very specific niche. In its usual output method, it does not edit the content of PDF files – to the extent that editing content is possible, opening a PDF in LibreOffice is generally the easiest way to work. Nor does QPDF import PDFs to different formats – the repositories of major distributions like Debian are full of scripts for that, like pdf2htmlEX and pdf2svg. However, if you need to change how a PDF is put together, QPDF is a toolkit that is both comprehensive and more convenient than the assorted scripts that only perform a single function. In fact, by adding options, you can make an entire series of structural edits with a single command. QPDF is especially handy if you no longer have the file from which a PDF was generated and are therefore unable to make a new one with different settings.
QPDF is available in many distributions. If it is not in your distribution's repository, you can download the source code from the project site and build it with the usual trio of commands: configure, make, and make install. The syntax, too, is simple:
qpdf OPTIONS ORIGINAL-FILE OUTPUT-FILE
[...]
Use Express-Checkout link below to read the full article (PDF).
comments powered by

Disqus
Visit Our Shop
Direct Download
Read full article as PDF: