FOSSPicks
Next
It's no secret that I love Qutebrowser – a Chromium/QtWebEngine-based web browser where you can use Vim keyboard shortcuts to do almost everything. Switching from a traditional point-and-click browser to Qutebrowser is transformative, but it's always good to see other browsers appearing with their own approaches to the same concept. The Next web browser does this, only with an even geekier bent. It's a keyboard-oriented browser with either Emacs or Vim keybindings that can be changed, drumroll please, via a configuration file and its built-in Lisp interpreter. Helpfully, when you first launch the browser, it shows you the most common shortcuts you can use to navigate the web, which is helpful, but you're on your own after you press Ctrl+l to load a URL into the main view – although there is a lovely fuzzy search built-in when you don't know the exact URL of the page you want to load.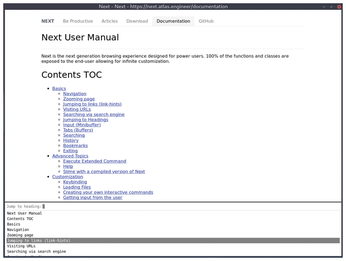 Speed is another big feature in Next, not just because you need to use the keyboard for everything, but because there's very little added to the raw QtWebEngine viewer that's driving the experience. Tabbed views are supported, and you can quickly switch between them with another shortcut. It's very much like working with Qutebrowser, only with different default keybindings. Another similarity is the link highlighting used to navigate to a page linked to from another page. By default, this feature hides behind Ctrl+g, and there's an excellent Jump to headings shortcut (Ctrl+,) which opens all the headings on a page as a tab-completable list from which you can easily select. Using both means you can quickly navigate through your favorite pages, many of which work just as well as with something like Chromium. Unlike Qutebrowser, though, there's no command or visual edit mode, but that makes this more of a pure browser than a "browser with aspects of an editor," which should help Next win a whole alternative set of fans.
Project Website
https://github.com/atlas-engineer/next
Minimalist music player
Violin
Minimalism isn't just useful when exploring new perspectives on web browsers, like the Next browser, or on the command line when playing with email clients. It's a great way of reassessing how we all use our favorite applications and application types. Music players are a great example, because the task they perform – playing music – is completely independent of how you might interact with the player. There's a good argument for a player simply playing music in the background while keeping user interaction to an absolute minimum. Even most of the features in Clementine, which was itself a project initiated to cut many of the superfluous features in Amarok, probably aren't needed by most users. This is why Violin is such an interesting new project. It's a music player that's so minimal, it doesn't even include a single configuration option.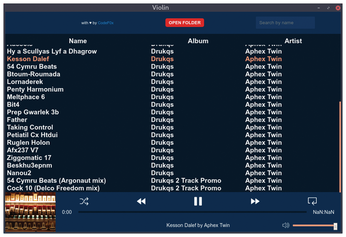 When you first load Violin, you're presented with a simple GTK3+-based user interface (UI) asking you to choose a folder to locate the music you want to play. Violin will play MP3, FLAC, MP4, WAV, and OGG files via PulseAudio. Having added the files, the music queue is simply populated with its contents, with any file-embedded album artwork used as a thumbnail. You just need to click Play to start playback, or use the media keys on your keyboard even when the application is running in the background. There's no playlist support, no 3D visualizations, no ability to create a library of your favorite tracks, and no online search for more metadata. Depending on how you listen to music, these may take minimalism a step too far. But if you're used to organizing your music into one folder per album, Violin's approach is perfect. It's also cross-platform, which means you get exactly the same fast experience on Windows, Linux, and macOS.
Project Website
comments powered by

Disqus
Visit Our Shop
Direct Download
Read full article as PDF: