FOSSPicks
Slic3r
Staying within the realm of 3D printing, there's a process between designing your model and printing that's called "slicing." This simple word hides a hugely complex idea: Slicing takes your 3D models and turns them into simple instructions for a 3D printer to follow. Those instructions are typically formatted as G-code, and they consist of thousands of lines like G1 X10 Y20 F1200 to tell the printer to go to position 10,20 at a speed of 1200. It's like you're controlling a huge three-dimensional turtle. To do this, a slicer needs to know about your printer and your filament before it can deconstruct your model into the commands required to reconstruction. It also needs to know how your printer handles the infill and the tricky issue of adhesion to the bottom layer, and whether the bridged parts of your model will need artificially constructed supports. Slic3r can do all this and more.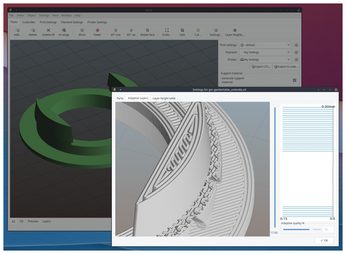 Slic3r starts off with a configuration assistant, which lets you tell it all about your printer and the temperatures you want for the filament and the heating bed. You can now import your 3D model, usually as an SDL file. There are simple operations to enable you to rotate the model for best alignment with the platter, and then you decide whether you need a brim, skirt, or support material. There's a variety of values for the infill, including 2D and 3D algorithms, before you set a percentage density for your model. More dense equals stronger and heavier, but also more use of the sometimes costly filament. Thanks to Slic3r, however, you can see how much each model is going to cost, and how long it'll take to print.
Project Website
Image viewer
Geeqie
Xv, the perfect image viewer, was created 25 years ago, and it's a tool that's still being developed and that you can still install on your Linux box. However, that doesn't stop other developers from trying new approaches, which isn't a bad thing with something as ubiquitous as image viewing. We all need something that appears quickly when we select an image, is compatible with the majority of image formats, and maybe provides a few simple processing tools in case an image needs an edit before sharing. Geeqie could be that application. It's a fork of GQview, which is no longer being developed, but is now built atop GTK+3 and is crammed with features.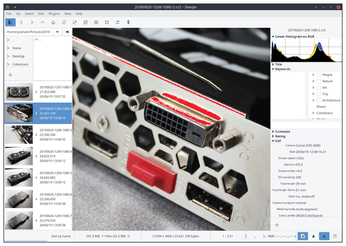 Launching without an image as an argument lets you use the UI to navigate through your filesystem to your images. As soon as you open a folder containing an image, it appears in the preview pane almost instantly. If there's more than one image, a click of the mouse or a press of the space bar will load the next image. GTK gives the UI a very slick and minimal look, perfect for image viewing, without compromising on functionality. You can switch the file view to an ultra-fast thumbnail view, which works perfectly with large high-resolution images. Images can even be shown as a calendar, alongside a color histogram, and as convenience features such as under- and over-exposure highlighting. You can perform 90-degree rotations and use external plugins for essential editing, such as cropping or loading into darktable. You can tag images with keywords, add comments, and use geolocation with OpenStreetMap. It's a brilliant utility that does everything you need from an image viewer, but does so quickly and without getting in the way of the image viewing.
Project Website
comments powered by

Disqus
Visit Our Shop
Direct Download
Read full article as PDF: