A networked receiver for digital music
Roaring Cube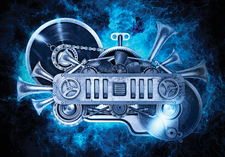 Build a networked receiver for your digital music collection with an old stereo, a Raspberry Pi, and the HiFiBerry.
Receivers are much like cars in some respects: While the world is busy talking about networked, autonomous, and electric vehicles, cars that simply drive reliably from A to B seem to be completely antiquated. Likewise, the HiFi amplifiers still found in many living rooms might deliver outstanding sound to your speakers, but their strong suit is not playing a digital music collection. In the end, you need to network your HiFi system. In this article, I show you how to build such a system with a Raspberry Pi and HiFiBerry.
In my case, I started out with a Philips FW362 [1] compact system built in 1999, with a twin cassette deck and a CD player (Figure 1). Even at the time of purchase, the stereo system was definitely not for audiophiles. The CD player died years ago, but the cassette deck now radiates retro charm.
Nevertheless, expanding the system by simply adding a network player is not the best idea; rather, I want to integrate a networked receiver with an integrated power amplifier. You can find a quite large selection of both device types today. The question therefore arises: What features do I need, and which devices offer them?
This question is not easy to answer for many products because of the numerous features and standards on offer: WiFi, Ethernet, Bluetooth, USB, DAB (Digital Audio Broadcasting), DLNA (Digital Living Network Alliance), FlareConnect, DTS Play-Fi, MusicCast, Dolby Atmos, Spotify, the HEOS App, and so on. You might think you are equipped for any digital case, but only at first glance (see the "Commercial Receivers" box).
Requirements
For my purposes, the receiver needs to meet at least the following requirements: It has to play my music collection from the home network-attached storage (NAS), recognize files on USB media, and transmit sound to a Bluetooth headset. Additionally, I want to be able to operate all the basic functions without an additional device, such as a smartphone app. For example, navigation of the integrated displays and buttons must be so convenient that titles on the NAS can be found and played. The icing on the cake would be a Wake-on-LAN (WoL) function for the NAS.
The rationale behind these requirements is that audio receivers are a long-term purchase that should normally continue to function reliably after several years. Whether they will still be able to communicate with the latest devices in 10, 15, or even 20 years is another matter. If not, they would be electronic scrap again, even if they are still working flawlessly. I find additional Bluetooth adapters that plug into the headphone jack cumbersome to use, and they constantly need to be plugged and unplugged. Pairing can also be very unreliable.
HiFiBerry
Buying a brand new receiver feels somewhat like buying an electric car. You can spend a large amount of money without even getting close to the range of the cheapest gasoline model. The alternative to a complete receiver is an independent network player. You can connect it to an existing system and then, for example, play music to the amplifier through a Bluetooth adapter. Other network players can in turn be integrated into the home network via DLNA. One good example of this is the Yamaha NP-S303. It can play music on headphones and speakers via Bluetooth and is otherwise very well networked, but without remote control and an app, nothing happens. The two-line LCD display supports very limited use without the MusicCast app.
In a test, the German Frankfurter Digital Newspaper [3] pointed out another way to network your stereo system with the help of a Raspberry Pi computer and a plug-in sound card like the HiFiBerry [4]. Even in terms of sound quality, this combination is said to keep up with the easily more expensive test devices.
HiFiBerry offers a small box for combining with the Raspberry Pi, but I am looking for a standalone model that can be operated without an app, which would require a touch-capable display and thus a larger housing.
Because my Philips CD player is broken, a network drive removes the need for CDs anyway, and the player sits right at the top of the case, I had no problem freeing up some space for the display (Figure 5). More than enough space is still available below the plastic hood to accommodate the Rasp Pi and HiFiBerry. If both boards are positioned correctly in the corner, all outputs can be used. The thin plastic also makes it easy to cut out the recesses for the display and connections (Figure 6).
On/Off Switch
Because the Raspberry Pi does not have an on/off switch, I will be adding another board with that function to the two boards already in place (Figure 7). The now unused button that previously operated the drawer of the CD player can be used for my purposes. You can find a number of how-tos on the web for on/off switches, some of which need a complete microcontroller. However, I designed a circuit with a simple resistor-capacitor (RC) circuit and a transistor-controlled self-holding relay, which allows me to power on and boot the Rasp Pi (Figure 8).
Additionally, the same drawer button can be used to call several functions, which I query with a Rasp Pi GPIO input (Figure 9). Depending on the number of operations, the Rasp Pi can then be shut down or rebooted with a small Python script. The Raspberry Pi's USB output, unlike the 5V GPIO pins, is switched off at shutdown. The capacitor of the RC circuit then discharges, and the self-holding relay interrupts the power supply again.
comments powered by

Disqus
Visit Our Shop
Direct Download
Read full article as PDF: