Open source e-paper
Open Hardware – Inkplate 6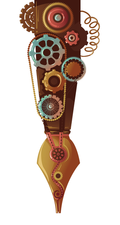 Combining open firmware with recycled hardware, Inkplate launches a crowdfunding campaign for an open source e-paper display.
From the start, open hardware has repurposed used technology. Companies like Minifree and Technoethical have based their entire business plans around such recycling. By the time you read this article, these companies will have been joined by a crowdfunding campaign for Inkplate 6 [1], an e-paper display that combines open source firmware with parts from used Kindle e-readers.
Inkplate 6 is developed by e-radionica.com [2], a company started by David Zovko when he was 16. The company's first product was the Croduino Basic microcontroller, an Arduino-compatible board named for the fact that it was manufactured in Croatia. Today, e-radionica.com offers 70 Arduino-compatible boards, all of which are open hardware. "Since openness enabled my creation of the first board," Zovko says, "I have committed that all my maker projects will be open source."
E-paper (aka electronic paper or e-ink) is a display technology that imitates the look and resolution of ink on paper (Figure 1). Unlike the typical computer monitor, e-paper reflects light, just like paper. As a result, e-paper not only reduces eye strain and has a wider viewing angle, but it is readable in direct sunlight without appearing to fade. Although e-paper color displays have existed for close to a decade, the majority of e-paper is currently grayscale. The most popular use of e-paper is in e-readers like the Kindle or the Kobo, but other uses include arrival and departure displays in airports, electronic billboards, and smartphone displays.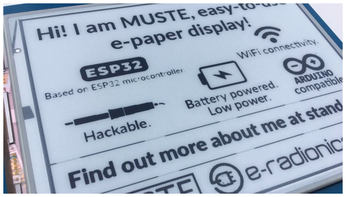 "E-papers have always been a fascination to me," Zovko says. "They look pretty neat and use no power to show contents on the screen. [However], after trying some of the displays available to makers, I didn't find them simple enough to use, and some features were missing. After finding that there are recycled Kindle displays, one thing led to another and the Inkplate was made."
Inkplate Features and Audience
Zovko goes on to explain that "Inkplate 6 is a display designed to make using e-paper extremely simple. Simplicity is achieved in both hardware and software. Just plug in a USB cable or battery, open the Arduino IDE, and change what's on the screen with a few lines of code. No connecting extra cables or complicated code. The product is based on the powerful ESP32 microcontroller (Figure 2), which has WiFi and Bluetooth connectivity. There's a battery charger, GPIO ports for extra tinkering, an SD card for image and book storage, and three touch-buttons below the screen."
Other features will include:
A recycled 6-inch Kindle e-paper display with a resolution of 800x600 pixels
Low power consumption
Arduino libraries that enable simple customizations: A few lines of code is all you need to display text and images, change grayscale settings, or enable partial updates for faster refresh cycles
A 3D-printable enclosure
Like other devices built with an open source microcontroller, the Inkplate 6 is designed to have flashable firmware. "You can customize any part of the screen using the Arduino IDE or MicroPython. You can show custom text, images, and even greyscale images. In the Arduino, it's compatible with the well-known Adafruit GFX library. So, you can put any contents you can imagine on it."
"The product is made for makers, if that's not too vague to say," Zovko says, speaking of the do-it-yourself community that overlaps with the open source movement. "It's completely open and customisable, so anyone can make it into what they want. That might be a desktop planner, which includes today's calendar events, the latest emails and weather reports, and is updated automatically. Or it might be a meeting room sign, which shows who's having meetings in a room at which time, or even an e-book reader. We hope that everyone will have a specific idea, although we will provide examples."
Development Challenges
Recycling hardware can be a shortcut to market. "We had the option to pick between new and recycled displays," Zovko says, "and recycled ones just seemed like a natural option. Why not use something that still works?" However, Zovko notes that recycling can create its own problems. "There were a few major ones," he says, "the biggest being that documentation was not available. With no proper datasheet or information on how to drive the display, it was quite the challenge to get it working properly, especially the greyscale mode. But with a lot of salvaging from the Internet and reverse-engineering of the Kindle device with that specific display, we have come to a working product."
At the same time, the number of recycled Kindle displays is limited. "Right now, there are a few thousand available screens, and that's a really fair concern. [But] that should be enough for quite some time."
Upcoming Crowdfunding Campaign
At the time of writing, the Inkplate campaign page is limited to basic information and a link to a mailing list. However, once the Inkplate campaign begins in December 2019, Zovko anticipates no trouble in raising a hundred backers. Already, five hundred names are on the mailing list, so, as Zovko remarks, the target probably "will be quite easy to surpass." The Inkplate is already designed, so the challenge after the funding campaign will be manufacturing. Zovko anticipates shipping the Inkplate by early March 2020 at the latest.
In the future, the limited number of recycled Kindles will sooner or later mean that Inkplate will need to be redesigned for other devices. Meanwhile, Zovko says, "Inkplate 6 is a good starting point for us to get known to the market and find out what customers are looking for. There are many possible uses, and with feedback from this campaign, we hope that Inkplate will become a series of products with different screen sizes and features while keeping simplicity of use as a main feature."
If all goes as planned – and there is little reason to doubt that it will – Inkplate seems likely to fill one of the gaps in open hardware and encourage the release of still other open devices.
comments powered by

Disqus
---
Support Our Work
Linux Magazine content is made possible with support from readers like you. Please consider contributing when you've found an article to be beneficial.
---