Displaying Docker containers and their history with Go
Programming Snapshot – Go Docker Monitor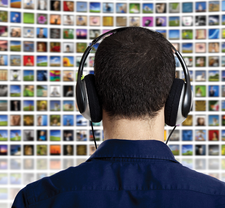 With a monitoring system implemented in Go, Mike Schilli displays the Docker containers that have been launched and closed on his system.
Even in the age of newfangled buzzwords like "Kubernetes," veteran system administrators still appreciate command-line tools like good old top, which displays running processes in real time. Since I also want to keep up with the young bloods (even at my age, which can already be described as advanced), I recently created a small, terminal-based monitor that shows Docker containers coming and going on a system.
The standard Docker client, docker, is written in Go and communicates via a web interface with the Docker daemon to query the status of running containers, start new ones, or terminate existing ones. In addition to a Python interface, Docker also offers a Go SDK. Since Go also has excellent libraries for displaying in the terminal, it was my choice for implementing the dockertop monitor in this Programming Snapshot column.
The idea is simple: The program asks the Docker daemon at regular intervals for all the containers running on the system, displays their names in a list, and refreshes them every second – just like top. As an additional treat, the monitor in the right part of the split screen also displays a rolling history of the containers. Each time it detects a new one, the program writes New: <Name> into it. If a container has been lost since the last call – for example, because it has died in the meantime – the log entry reads: Gone: <Name> (Figure 1).
[...]
Use Express-Checkout link below to read the full article (PDF).
comments powered by

Disqus
Visit Our Shop
Direct Download
Read full article as PDF: