FOSSPicks
DrumGizmo
Even if you're not particularly into making your own music, you have to be into making your own drum beats! It requires none of the patience you need with pitched notes and chords, where you place one pleasing note after the other. Instead, you can often simply click around in a beat-maker drum machine for instant gratification. Which is probably why this type of software has been around for decades, with even the 8-bit sample-driven MicroRhythm, running on a Commodore 64 in 1986 being capable of professionally-passable output. Audio capabilities have obviously improved a lot since then, but the basic premise behind drum making software is the same. They generate sounds from pre-assigned MIDI note values, so that pressing a specific key will generate the same type of sound across drum kits and across different drum applications. A kick drum can be found on MIDI note 36, for example (C1), while the snare is on 36 and the high hats on 42. But often, you don't need to worry about the MIDI or note values, because those notes are represented by rows on a grid, with timing on each column. In this way, a grid represents when a sound should be triggered as a cursor moves from left to right. It's how the brilliant Hydrogen works, for example, but it's not how this great piece of software, DrumGizmo, works.
DrumGizmo is simply the drum engine used to process and generate percussion sounds. It does this either as a standalone application or as a plugin within your favorite music making environment. MusE or Qtractor are good examples, but there are many others, and these will often include the drum matrix that DrumGizmo is missing. DrumGizmo's focus is on the sounds, rather than the patterns, and the sounds themselves need to be downloaded separately. The sounds linked to from the main site have been meticulously recorded, often from multiple microphones across many different tracks, and they're huge. Even the smallest is a 2GB download. The DSRKit, for example, consists of eight different drums, recorded from a real kit into 13 different microphones. These recordings are each from close mics on the drums themselves and two overhead mics to capture the ambiance, before being mixed into 13 separate channels, all of which appear in Ardour, a wonderful multi-channel panning tool. The quality is amazing and easily rivals commercial sample packs, which is hugely unusual for Creative Commons (CC BY 4.0) licensed media.
With the sounds loaded into DrumGizmo, there are further creative possibilities from within the user interface. You can use sliders to humanize, or add variation, to the attack and release times of the samples and change the timing of when a sound is triggered and the amount of variation in which particular sample is chosen for a hit velocity to make the output sound more natural. The developers have even written a white paper on how the sample selection algorithm works by estimating the power of a sample so that it can sort and trigger those that most accurately reflect the input strike velocity and dynamism. It's difficult to understand, but the results speak for themselves. Whether you're banking away on a QWERTY keyboard, using a cheap drum pad toy, or even a professional MIDI kit, the output sounds realistic, playable, and remarkably effective for a piece of open source software.
Project Website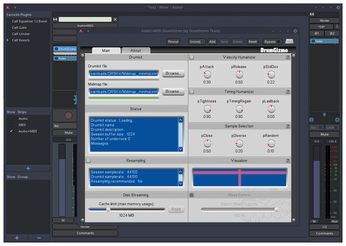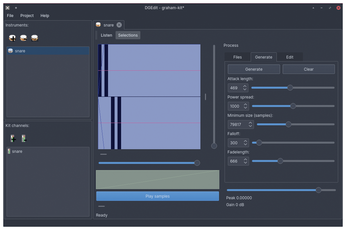 Urban planning
A/B Street
Optimizing a traffic control system as the traffic – cars, vans, and trucks – travels around an urban road network is a classic challenge often used in computer science classes to teach problem solving and programming. If the current state of our roads is anything to go by, it's a challenge that has yet to be solved. Maybe this lack of progress is because the problem has never been made entertaining enough, which means this game, A/B Street, could be the beginning of a transportation revolution. It's a game based on optimizing a traffic control system while exploring how small changes to a city affect the movement of drivers, cyclists, transit users, and pedestrians. It does this through a top-down 2D map of a city, complete with traffic updates and data on how the whole vehicular dance is being orchestrated. A/B Street does a brilliant job of making urban planning a fun and engaging activity.
What's most impressive is that this 2D map isn't a computer generated simulation, but a real map of Seattle taken from OpenStreetMap. Alongside this is a complete set of King County GIS data that includes sidewalks, parking, bike lanes, turning lanes, and even bus stops. All this data has been folded into a software engine that simulates pedestrians, cars, buses, and bikes, with unseen avatars even moving from one mode of transport to another. This is where the gameplay comes in. The game is a sandbox built within this functional environment where you do things like changing the timing on traffic signals, converting on-street parking to bus lanes, or changing turning directions. You can do this side-by side with the original simulation to see if you're improving things or making things worse. When you've finished messing about, the game itself includes challenges for you to solve.
Project Website
https://github.com/dabreegster/abstreet
comments powered by

Disqus
Visit Our Shop
Direct Download
Read full article as PDF: