FOSSPicks
Xmonk
We often look at weird audio software here, but that weirdness is often accompanied by complexity. The amazing Orca audio programming environment, for instance, is the perfect example, because it extrapolate music composition to a terminal window and the placement of ASCII characters, which could only be mastered with careful study of the manual. It was capable of great results, but only after some serious time invested in learning how to get the output you wanted.
Xmonk isn't like this. It makes sounds, but it's altogether simpler and more immediate, and a little like the audio equivalent to Douglas Adam's electric monk, only instead of believing things on your behalf, Xmonk creates a chanting drone for you, so you don't have to.
First, to get sound out of Xmonk, you need to virtually plug it into something. This is because it's an LV2 plugin that needs to be hosted in a piece of audio software like Qtractor or Ardour. With that done, you open the single Xmonk window to see a 1960s-style tie-dyed image of someone meditating between two virtual sliders – one slider for gain and the other for sustain. Beneath this is a small keyboard icon, which, when clicked, opens a virtual piano keyboard. This saves you the trouble of plugging in a physical MIDI keyboard or generating notes another way, because this is how you generate a sound. Press a key, and you'll hear a chanting-like sound at a single pitch. Move the sustain slider up, and this sound remains without any further input. What isn't immediately obvious is that you can drag the cursor across the meditating figure to change the timbre of the sound. In fact, it's a vocal formant filter, with a horizontal drag taking the sound through the vowel-like sounds, and the vertical axis changing the pitch. But that's much more technical information than you need to appreciate this plugin that generates great output and is easy to use.
Project Website
https://github.com/brummer10/Xmonk.lv2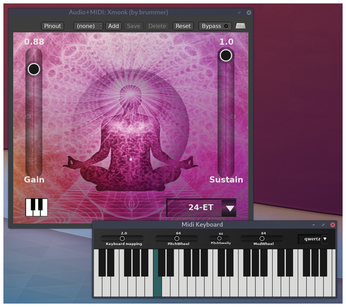 Advanced file manager
Polo
New file managers are always worth trying, because, first, they don't come along all that often, and second, because it's easy to forget that there might be a better way to do things. Polo is one of those file managers that is trying to do things differently, even before you get started. This is because it's developed with funds from Patreon and donations. The entire project is open source, but people who do contribute get easier access to a special set of plugins as a thank you. Another new thing is that before you start you get to choose the layout style you want from the file manager. You can choose between several panel views, for example, and the four panel split view is particularly effective if you're a power user. These views can be changed manually by pressing F4, and you can split these views into lists, icons, tiles, and media after the startup wizard has gone, but it's great to see these features before you start.
Polo is built on GTK+, but fits just as cleanly into a KDE Plasma environment as it does a Gnome one. In fact, it feels very similar to Plasma's Dolphin. There's drag-and-drop file management, and you can see connected devices, including those encrypted with LUKS, create and view archives, boot an ISO image into a virtual machine and even download videos from YouTube, all without leaving a single application. Its cloud credentials also support adding Google Drive, Amazon Drive/S3, Dropbox, and a variety of other file hosting services, all of which can then be accessed just like any other location. There's also extensive theming, and with the right GTK+ icon set installed, you can change almost any aspect of the application's appearance outside of any settings your normal desktop might impose.
Project Website
https://teejee2008.github.io/polo/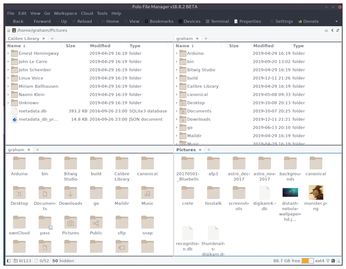 comments powered by

Disqus
Visit Our Shop
Direct Download
Read full article as PDF: