FOSSPicks
Celestia
Almost 20 years ago, an astronomy application appeared that completely broke the mold for all other astronomy applications. At least on home computers, there had only been enough processing power to calculate a static view of the night sky from a single position at a single point in time. If you had the resources, you could update this view to track time. But Celestia unshackled observers from their backyards, and even from Earth's gravity, by allowing them to fly through space and time to observe a first-person view from anywhere in the universe. All of this was done in real time via the wonders of 3D acceleration and OpenGL, and it allowed you to see the universe from a whole new perspective – from Comet Shoemaker-Levy 9 hitting Jupiter in July 1994 to the solar eclipse that will happen over Easter Island on Monday, December 14, 2020.
Celestia has been in stasis since 2011. During the interim, other applications have come along offering similar functionality. Perhaps the best is the proprietary Universe Sandbox, which allows you to play with celestial objects and the laws that keep them in motion. Even games like Elite Dangerous have borrowed heavily from Celestia's exploratory premise. Which is why it's so brilliant to see that the Celestia project is showing sparks of life again, with new builds and a new nightly release. The forums are alive, too. While the current Celestia experience is very much the old Celestia experience, it's wonderful to see it running in the modern age, and it hasn't aged badly at all! This is helped massively by the huge texture and add-on packs you can install. These upgrade the relatively simple geometry with textures of which more recent hardware will make good use. There are still plenty of features unique to Celestia: split views, bookmarks, easy time shifts, and even support for 120 frames per second!
Project Website
Liquid cooler control
liquidctl
OpenCorsairLink is one of those small yet infinitely useful utilities we cover in these pages. It allows us lowly Linux users to communicate with our Corsair power supplies and coolers and to perform essential tasks like lowering their fan speeds, adjusting the pump rates, and changing LED colors to pink. Without any support from Corsair, the developer behind OpenCorsairLink used Wireshark to completely reverse engineer the USB communication between the official Windows client (Corsair Link) and the real hardware. It became too much for a single developer, who has announced the retirement of the OpenCorsairLink project, but the good news is that its original author has already migrated many of its core protocols to another project, liquidctl, a similar initiative but with a larger team and a more open premise.
Unlike OpenCorsairLink, which is written in C and bundles everything together, liquidctl is written in Python and abstracts the drivers that communicate with the hardware from the functions needed to configure it. This means you can use the same syntax to set the fan speed profile for a ZXT Kraken X53 as you would on the Corsair H80i GT. It also means that when other hardware gets driver support, it will immediately be able to take advantage of the functions provided by liquidctl. This already covers most of the functionality found in OpenCorsairLink, and even lets you change the colors of the LEDs. You can also get verbose status output from your devices, which is often the only way to see temperatures, fan speeds, rail voltages, and pump speeds from Linux. Another great feature is that because each driver has to be implemented separately, each device has its own documentation to deal with its capabilities and quirks. This makes it easier to set up than OpenCorsairLink and easy to integrate into your system as part of systemd or your startup routine.
Project Website
https://github.com/jonasmalacofilho/liquidctl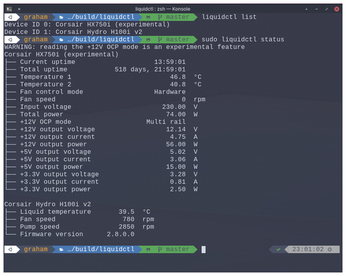 comments powered by

Disqus
Visit Our Shop
Direct Download
Read full article as PDF: