FOSSPicks
Vitomu
This fantastic little application for pulling audio from online video could be used to make an illicit copy of copyrighted material, which we genuinely don't want to encourage or obviously endorse. But it also has legitimate uses, especially when online content has become so ephemeral, often disappearing without warning. It's also a brilliant example of great design, because it performs a function that is either complicated to do manually, unreliable, or advertising-ridden when you use an online service. Vitomu simply waits for a video URL to appear on the clipboard; when it does, it lets you click a single button to convert the video at the end of the URL into an audio file. It's perfect for straight-to-video podcasts, and it works without requiring any complicated dependencies. Vitomu will even download the latest version of FFmpeg internally when you first start up the application.
While Vitomu performs its function without requiring a single click, there are some configuration options to explore. There's a range of audio formats to choose between, including FLAC, Ogg Vorbis, M4A and AAC alongside the default MP3. You also can change the bitrate. The minimalist look can be tweaked slightly, first by changing the font size and also by enabling a custom titlebar, though the effect is a subtle movement of the text if you're using a dark theme. The highlight color can be switched between pink and green, but either way the application always looks fantastic. It may seem like a simple task, but having one application that performs the job well, and transparently, without being another cookie gathering web page, can be a huge advantage, because you'll never need to remember the equivalent FFmpeg incantation or web address again.
Project Website
https://github.com/digimezzo/vitomu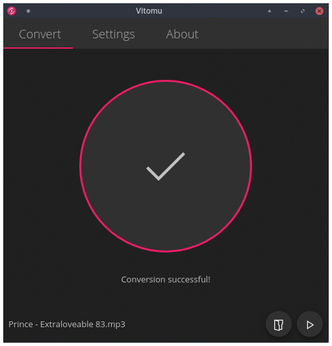 Advanced note-taking
Knowte
Knowte is a note-taking application by Raphaël Godart, the same developer who created the Vitomu Internet video-to-audio converter also covered in this FOSSPicks. This is a good thing, because Vitomu is beautifully designed, and fortunately, Knowte borrows the same aesthetic. It's also a much more ambitious application that offers more than you'd typically expect from a note-taking application.
The first thing you notice is that there are five headings across the top of the main window: All, Today, Yesterday, This week, and Marked. Each heading embeds a counter that shows you how many notes you've taken for each period.
To create a note, you first need to create a notebook. This is like a folder in filesystem terminology, and it allows you to create notes for different categories, although you can also select All notes to show every note regardless of which notebook they're in. All these notes are also part of a collection, and you can create a new collection for an entirely new set of notes. This could work well for class notes, for example, or for taking notes during a project that are then archived as an old collection.
The notes themselves are written from a separate window that operates like a full-fledged text editor. There's a toolbar with formatting options, and you can use Markdown square bracket syntax to create checkbox items. The number of checked and unchecked items in this list is visible outside the note within the All notes view, so you can easily see the progress (or lack thereof!) of any to-do lists you've set yourself. It works brilliantly, and the design is always clear, concise and easy to understand. Notes appear to be stored as plain text within a JSON-formatted file tracked by a simple database. It's not as portable as simple Markdown, but it still means you could easily get to your data if necessary, or if Knowte ceases development.
Project Website
https://github.com/digimezzo/knowte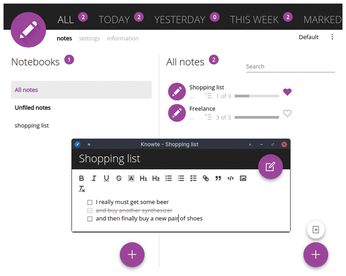 comments powered by

Disqus
Visit Our Shop
Direct Download
Read full article as PDF: