A 64-bit Raspberry Pi with 8GB of RAM and USB boot
Pi in the Sky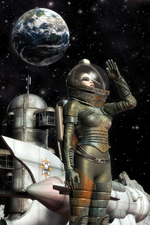 The Raspberry Pi 4 equipped with 8GB of RAM is the top end of this popular small-board computer. A 64-bit version of Raspberry Pi OS and the ability to boot from storage devices connected over USB are also just around the corner.
When the fourth generation of the Raspberry Pi was presented in June 2019, the Raspberry Pi Foundation fulfilled almost all the wishes of its loyal fans. With directly wired Gigabit Ethernet, fast USB 3.0 ports, and two monitor connections, the Raspberry Pi had finally come of age [1]. Technical details, such as the new BCM2711 system on a chip (SoC), along with the four Cortex A72 cores and up to 4GB of RAM were nearly forgotten.
Almost a year later, the Foundation launched a new variant of the Raspberry Pi 4. Besides versions with 1, 2, and 4GB of RAM, the new version was now also available with 8GB of RAM for an official price of $75 (£73/EUR78) – hardly a surprise, because the variant was listed in the Safety and User Guide enclosed with each board, more or less by mistake. Technically, the BCM2711 chip on the Raspberry Pi 4 can address up to 16GB of memory, but no chip manufacturer was able to supply LPDDR4 (low power, double data rate) chips with 8GB of capacity for the 2019 release [2].
In terms of components, the 8GB version hardly differs from the previous Raspberry Pi 4 versions; the only difference is that the RAM chip's identifier ends in D9ZCL (Figure 1). Having more RAM also means a minor adjustment of the power supply. Apart from that, the boards of the different variants are like identical twins.
[...]
Use Express-Checkout link below to read the full article (PDF).
comments powered by

Disqus
Visit Our Shop
Direct Download
Read full article as PDF: