Free software trends and events
2020 in Review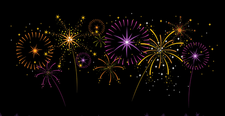 Among other noteworthy trends in 2020, producing free and secure videoconferencing software has become a higher priority in the past year.
Looking back at 2020, it's impossible not to talk about the pandemic or the economy. However, free software businesses and communities suffered less than many organizations this year, for the simple reason that many of the precautions that others scrambled to put in place have been standard practice in free software for decades. For example, when everyone was advised to work from home, many Ubuntu employees [1] were doing so already. Aside from a surge of interest in videoconferencing, the pandemic has been largely business as usual in free software.
For that reason, a thorough summary of trends and events in free software during 2020 is impossible. As usual, too much was happening. However, here is my pick of the key events of 2020 at every level from the corporate to the home desktop.
Application Arrivals and Departures
Once not so long ago, Adobe Flash was a necessity for the web. Some sites were actually written entirely for it. For years, the Free Software Foundation (FSF) listed a free Flash replacement as a high-priority project [2] and sponsored its own alternative called Gnash. However, built-in support in web browsers, as well as changes in design fashion and W3C standards, has put an end to Flash at last. In November, Mozilla confirmed that starting with its next release in January 2021, Flash would no longer be supported in Firefox [3]. A sign of how times have changed is that this milestone is passing mostly unnoticed.
By contrast, the pandemic sent millions to videoconferencing with proprietary software like Zoom. Possibly overwhelmed by all the new users, in the summer, Zoom's gaps in privacy and security became known – and further concerns were raised when the company initially announced that end-to-end encryption would only be available for paying customers, although that position was quickly modified [4]. Unsurprisingly, free software videoconferencing was added to the high-priority list around the same time. Almost immediately, previously obscure self-hosting projects gained notice, like Riot (now Element), BigBlueButton, and Jitsi, as well as alternatives to Slack such as Rocket.Chat. In this way, if few others, social-distancing literally changed free software's priorities.
Free Hardware Ups and Downs
For free hardware, 2020 was a mixed year. On the one hand, System76, already a leading manufacturer of preinstalled Linux computers, went from strength to strength, with frequent announcements of additions to its aesthetically designed Thelio line, ranging from minis to high-end servers. System76 is even developing its own keyboard, while its in-house Pop!_OS distribution, with its auto-tiling feature, was in the top 10 of page views on DistroWatch throughout the year.
On the other hand, Purism, which gained its reputation for its Librem line of laptops that were certified in the FSF's Respects Your Freedom program [5], struggled all year to release a fully functional version of its Librem 5 phone. Although announced in September 2019, the Librem 5 [6] was in unofficial beta status for most of 2020. When the completely functional phone was finally released in November, its price was $1,999 – three times the price offered in the original fundraising campaign in 2017. It is a disappointing story for a product that was announced with such high hopes.
Meanwhile, instead of the assortment of small businesses in open hardware that seemed to be emerging in recent years, the development of free hardware is still largely in the hands of existing corporations, and it is currently emphasizing the development of modular parts, like the RISC-V chip. The use of these parts in new products is still to come.
Corporate Free Software
With the world's economies in survival mode, major free software business news was scant in 2020. Beyond the usual software releases, relatively little news came from the larger companies like Canonical, Red Hat, or SUSE.
Probably the most important news of the year came early in December, when Red Hat announced that it was discontinuing CentOS [7]. CentOS had made its reputation as a more easily available clone of Red Hat Enterprise Linux (RHEL), and it was acquired by Red Hat in 2014 – presumably to remove the competition. Since then, CentOS has acted much as Fedora is supposed to do, as a testing ground for RHEL. Now, however, Red Hat will continue only CentOS Stream, which will become RHEL's upstream development branch with rolling releases.
One reason may be that CentOS is much more popular than RHEL as a server. Certainly that appears to be why angry CentOS users have been decrying the change. As Red Hat itself notes, CentOS Stream is hardly a replacement. Many are denouncing the move as a corporate betrayal.
Almost immediately, CentOS cofounder, Gregory Kurtzer, immediately announced he would create a CentOS replacement called Rocky Linux. Meanwhile, CloudLinux plans to produce its own fork, Project Lenix – and invest over a million dollars a year in it. These alternatives [8] should solve CentOS users' practical problems, but the episode is likely to fester as an additional justification for free software users to mistrust corporations.
comments powered by

Disqus
Visit Our Shop
Direct Download
Read full article as PDF:
---
Support Our Work
Linux Magazine content is made possible with support from readers like you. Please consider contributing when you've found an article to be beneficial.
---