FOSSPicks
PeaZip
There are so many different archiving tools for Linux including the venerable tar, gzip, and xz, and the plucky upstart, zip. Each typically has its own syntax for compressing files and folders into a single file, and conversely, its own syntax for decompressing that single file into one or more of its constituent original parts. Some even separate these functions into separate commands entirely. Of course, it's common to find graphical tools such as Xarchiver that encapsulate all these functions into a single executable. What isn't so common is finding a tool that does this across operating systems like PeaZip promises. PeaZip is a graphical desktop archive tool that can extract the contents of over 200 archive types, including all of the above, and many more, on both Linux and Windows.
The Linux version is built using the GTK2 engine, and it's functionally identical to the Microsoft Windows version, which is itself compatible with Microsoft Windows 10/8/7/Vista, XP, Wine, and even ReactOS. The application functions much like a file explorer, with filesystem navigation in the pane on the left and files on the right. Double-clicking on any supported archive will present its contents after a few moments delay, where you can continue to navigate through the archive as you might a directory. Single files and directories can be extracted either manually or with drag and drop. There are some nicely integrated functions, such as a web search, password decryption, and advanced filters, and the breadcrumb path management and history views will help new users. But the best thing about the application is still that it works the same across platforms, which is especially important on Windows where the operating system is littered with commercial proprietary equivalents offering fewer features.
Project Website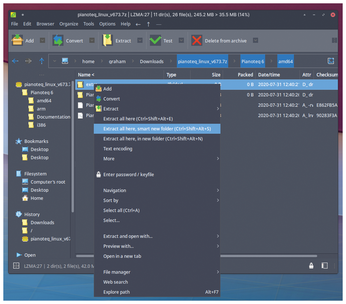 Peer-to-peer web browser
Beaker
There's no denying that the World Wide Web is a wonderful thing. Anyone can set up their own website and make it available online to anyone else. However, there's no doubt that the process is now more convoluted, and risky, than it was in the early days where you could serve pages from httpd running on your own system. This is maybe why corporations like Facebook have been so effective at becoming the (closed) World Wide Web for local community groups and institutions, and it's something that this new browser could potentially help. Beaker is a web browser with a unique, and currently experimental, emphasis on peer-to-peer hosting of personal sites that could offer an alternative to a hosted community. The application has just hit its 1.0 milestone.
When first launched, there's very little to distinguish Beaker from any other Electron app. Thanks to its embedded Chromium engine, you can immediately start browsing the HTTPS web just as you can with Chromium. The menus are a little sparse, but there is support for bookmarks, tabs, and adblock filter lists. There's also a developer menu with a terminal, and even more mystically, a protocol called Hypercore (hyper://). This is where the peer-to-peer part comes in: Beaker lets you create your own web pages and turn them into something called "Drives." These can be immediately hosted to other browsers capable of using the Hypercore Protocol – no servers required. Beaker's functionality is already mature, including the editor and testing tools, as well as the API for integrating the publishing mechanism to your own workflow, good documentation, and a decent range of templates for getting started. The drive component lets you only share a link with specific people, making it perfect for personal photo albums, for example. It's an interesting idea that could easily develop into an alternative web platform if just a few more people were using it.
Project Website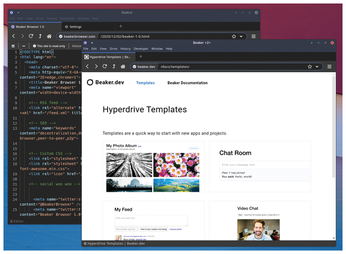 comments powered by

Disqus
---
Support Our Work
Linux Magazine content is made possible with support from readers like you. Please consider contributing when you've found an article to be beneficial.
---