Exploring Microsoft's forgotten Unix distribution
Getting Started: VirtualBox
Open VirtualBox and press the New button to create a virtual machine. In the new window, give the project a name and choose its location. Under Type choose Other, and under Version choose Other/Unknown. Click Next.
Under Memory size choose 16MB and click Next. In the hard disk section, choose Create a virtual hard disk now and click Create.
Under Hard disk file type, leave it as the default VDI VirtualBox format and click Next. For the Storage on physical hard disk section choose Fixed size and click Next.
We've seen different recommendations for your virtual hard disk' size, but 100MB should suffice. Choose that in the next window and click Create.
With the New Machine widget finished, you should be back at the main screen. Right-click on your new virtual machine and choose Settings. Open the Storage tab, where you will remove the CD-ROM attachment and add a floppy drive.
Right-click on the CD icon marked Empty and choose Remove Attachment. Choose Remove in the warning window that appears.
At the bottom of the Storage Devices section click on the + icon to add a new storage controller. Choose I82078 (Floppy). A floppy drive will now be added to your storage devices.
Click the floppy icon with the + sign, which will open a menu for adding disk images. Click the Add button and choose the N1.IMG file from the folder where you extracted XENIX and then click Choose in the Floppy Disk Selector menu.
Back in the Settings menu, click Ok and you will return to the main window, ready to start XENIX.
Installing XENIX
Click Start and your virtual machine will appear in a new window. After VirtualBox's startup screen, you will be greeted by a bare-bones XENIX boot screen, with the word Boot and a flashing cursor. Advanced users can enter boot switches here, but for now, just press Enter.
After showing basic system information, XENIX will prompt you about System Maintenance Mode. Press Enter and you will be taken to a keyboard selection screen.
Choose your keyboard type, after which you will be taken to the hard disk initialization screen. For your virtual machine, choose option 1. Press Y when asked about overwriting your hard disk. (Don't worry, it's only a virtual disk!)
For most of the next few screens, we'll make use of the default parameters by just entering Q.
Enter Q for the Hard Disk Drive 0 Configuration screen. At the partitioning screen, press 2 to choose the option Use Entire Disk for XENIX and press Enter to continue. Now back at the partitioning screen, enter Q.
At the next screen, for covering bad tracks and Scan Disk, enter Q, then press Enter to use the default value for bad tracks.
At the prompt for swap-space allocation, the default allocation should suffice, so press Enter again.
You will be asked if you want a separate /u filesystem; choose N.
When asked if you want to make any manual adjustments, enter N.
After your hard disk preparation you will be asked for the serial number and activation key. These are available in the Readme.txt file in your XENIX folder.
Finally, you will be prompted to remove the floppy disk before resetting the machine.
Press the Right Ctrl button to regain control of your mouse (you will do this numerous times during this process). At the bottom of the window is a floppy icon. Right-click it and select Remove disk from virtual drive. Press any key to reset.
Second Boot
When the machine resets, once again you will be presented with a bare XENIX prompt. Press Enter, and this time the system will run through a new series of checks, and ask you to insert disk B1.
Right-click on the floppy drive and select Choose a disk file (Figure 2). Choose B1.IMG from the XENIX disk folder and click Open.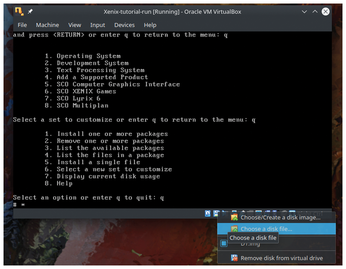 Press Enter and you will be asked to assign a root password. After doing so there will be a blinking cursor and nothing happening – give the machine a few moments, XENIX is configuring itself.
Next you will be taken through some prompts for setting your time zone. It will ask you to enter an abbreviation, but you can just enter Q to skip it.
The base image of XENIX is now installed. If you would like to stop and explore XENIX, you can enter 1 at the next prompt, or 2 to install more packages.
If you aren't already prompted by the installer to restart, first remove any floppy image that may still be attached to your virtual disk drive, and then you can reboot with the command:
# reboot
To shutdown, enter:
# shutdown
comments powered by

Disqus
Visit Our Shop
Direct Download
Read full article as PDF: