Raspberry Pi OS now comes with PulseAudio and a graphical printer manager
Accessibility
For users who rely entirely on hearing, the Raspberry Pi Foundation in early 2020 implemented the Orca screen reader, which is being developed as part of the Gnome desktop environment [5]. The program reads aloud the content of application interfaces, web pages, and documents, so the graphical desktop is no longer an obstacle. In collaboration with the Orca project, bugs were removed from the program, and tools (e.g., Raspberry Pi Configuration and Appearance Settings under Preferences) were optimized for Orca. Additionally, switching to PulseAudio makes it easier to redirect the audio output to Bluetooth headsets.
However, if users want to set up the system themselves, they have faced a problem up to now: Orca is not included in the standard system and has to be installed retroactively, which is more or less impossible for a user with visual impairment and without a screen reader. In the current version of Raspberry Pi OS, the installation can be triggered after starting the system by pressing Ctrl+Alt+Space. The assistant announces the procedure by voice output, installs Orca, and then reloads the graphical interface with the voice assistant.
Pressing Ctrl+Caps Lock+Space opens the program settings. For example, the reading speed can be adjusted, or the Orca modifier key (Caps Lock in the default configuration) can be changed. Together with magnification, which you can enable (after installing the magnifier program through Recommended Software) by clicking on the magnifier icon in the panel, the Raspberry Pi OS system is accessible to users who rely entirely on hearing (Figure 6).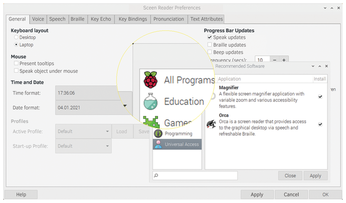 Conclusions
Raspberry Pi Foundation developers are working to add more and more refinements. The integration of PulseAudio and a CUPS front end makes the use of Bluetooth speakers or headphones and configuring printers far easier. Users with special needs are no longer left behind: The system can now be set up and configured independently by users who rely entirely on hearing, without requiring help for the first steps.
comments powered by

Disqus
Visit Our Shop
Direct Download
Read full article as PDF: