The latest challenge to copyleft
Copilot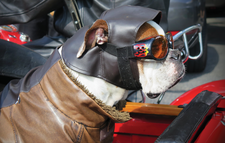 GitHub's Copilot takes code autocompletion to a new level but raises copyleft licensing issues.
In a world where most people carry a cell phone, autocomplete might seem too widely used to cause contention. However, Copilot [1], a new code autocompletion service for Visual Studio Code (Figure 1), is already raising licensing issues, especially for copyleft licenses such as the different versions of the GNU General Public License (GPL) that are the backbone of free software.
Code assistants are not new. However, Copilot claims to be in a class of its own. Developed by GitHub, Copilot is built on Codex, the new AI system created by OpenAI, and trained with all the public code on GitHub in dozens of programming languages. With this backing, Copilot includes the potential to reduce the time coders take to write or find examples or to learn a new programming language. It also makes possible innovative features such as the conversion of code descriptions in comments to code, autofill for repetitive code, suggestions for code tests, and lists of alternatives, taking autocompletion to entirely new levels.
However, along with these completions comes new licensing problems. Copilot's developers quibble that it is a code synthesizer [2], not a search engine, and insist that "the vast majority of the code that it suggests is uniquely generated and has never been seen before. We found that about 0.1% of the time, the suggestion may contain some snippets that are verbatim from the training set. Many of these cases happen when you don't provide sufficient context (in particular, when editing an empty file), or when there is a common, perhaps even universal, solution to the problem. We are building an origin tracker to help detect the rare instances of code that is repeated from the training set, to help you make good real-time decisions." In other words, exact copying is rare, usually the user's fault, and should be detectable in the future.
[...]
Use Express-Checkout link below to read the full article (PDF).
comments powered by

Disqus
Visit Our Shop
Direct Download
Read full article as PDF: