Bringing Gentoo Linux to the masses
Distro Walk – Redcore Linux
With its point-and-click installation, Redcore aims "to be to Gentoo what Manjaro is to Arch Linux."
Redcore Linux [1] (Figure 1) is a Gentoo [2] derivative designed to give users some of the optimization of Gentoo with an easier install. It is a successor to Kogaion Linux, which in later releases was also based on Gentoo. However, after five years of development, the RogentOS Development Group, Kogaion's owner, discontinued it in November 2016. In response, Ghiunhan Mamut, a member of RogentOS, created Redcore Linux. With Redcore featured in this month's download DVD, Mamut agreed to answer our questions.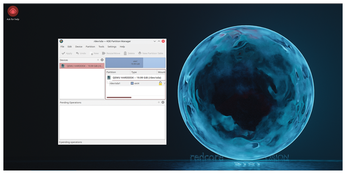 Mamut discovered free software around the turn of the millennium. Unusually, his high school ran Mandrake Linux, one of the earliest user-friendly distributions, rather than Windows. Later, when he bought his first home computer, he thought it natural to install Linux himself. "Back then," he recalls, "the free aspect did not matter much. But as time passed, I started learning about the system, and I was exposed to the free software movement. Naturally, I started tinkering with it – not programming but trying different configurations. I broke the system on purpose more times than I can remember, then tried to fix it. I soon found myself helping others fix and configure their systems." Mamut went on to help found the first Linux User Group in his city and made his first contribution: a patch for the chat client Pidgin. "It felt good," Mamut says, and he went on to create an installer for an online TV solution and to compile various packages as he hopped between distros.
Then, 10 years ago, Mamut discovered Gentoo Linux. "It was like nothing I ever used before," Mamut recalls. "It took a very long time to install – and I mean a very, very long time, about two weeks, since computers weren't that powerful back then. However, at the end of those weeks, I had a system which I built from scratch. I kept tuning it to my liking to eliminate stuff I don't use, and I guess I really liked the result, because after that I stopped distro-hopping." Mamut made an exception for Kogaion Linux, attracted by its efforts to make Gentoo easier, but "when I tried it, it felt very rough and unpolished," he says. "I decided to change that and I got involved in Kogaion's development. Gradually, we rebased the distribution on Gentoo Linux exclusively and it became a lot better, easy to install and quick to run. However, after just two successful releases, real life commitments got in the way and the team behind it disbanded. Yet I wasn't ready to give up, so I forked the codebase and Redcore Linux was born."
Redcore Today
Today, Redcore continues to rely on Gentoo as its upstream source. According to Mamut, 2129 out of 2228 packages in Redcore come unmodified from Gentoo's stable and testing branches. The rest of the packages are Redcore specific and include different kernels, the Sisyphus package manager (Figure 2), artwork, configurations files, and modified Gentoo packages. Because of the dependency on Gentoo, Redcore syncs with Gentoo every three days. Three days may seem a lot for a rolling release, but Mamut notes, "that's a big improvement, since Redcore Linux used to sync changes on a weekly basis and sometimes longer, lagging behind. We aim at bringing that number down to once per day, but we'll see how life commitments get in the way."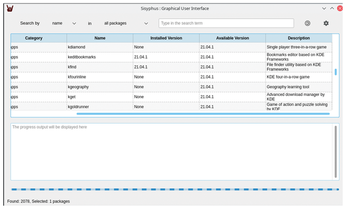 Because Redcore is based mostly on Gentoo's testing, packages are further organized into three repositories: master (stable), next (testing), and edge (development). New packages from Gentoo are synced into edge and, if necessary, recompiled against newer libraries. Generally, the process goes smoothly, but occasionally a bug has to be patched, either from fixes in Gentoo or by Redcore. "Sometimes," Mamut adds, "we have to file [a] bug upstream with our proposed fix so every Linux distribution can benefit."
Redcore has tried in the past to gather information. One release was downloaded 2,000 times in eight hours from the distro's server alone. However, the distro has not gathered statistics consistently. "We only know for certain that like 10 people use it," Mamut jokes, "and that only because they join our IRC channel and chat with us." However, Redcore developers do not view their target audience as beginners, although they are aware of at least one newcomer to Linux who successfully installed their work. Rather, the goal is "to be to Gentoo what Manjaro is to Arch Linux. It targets people with Linux experience but with no Gentoo Linux experience," Mamut explains. "Gentoo Linux is fantastic, but its installation can take a very long time and some users may find it intimidating. It really isn't, but a point-and-click installation is more appealing to some, even to long-time Gentoo Linux users. We've been made aware that some people are installing Redcore Linux, then removing Redcore specific bits and converting their systems back to Gentoo Linux. It's just quicker for them this way, and that is perfectly fine with us, since it fits with our design goals."
How Redcore Works
"I've read many posts claiming Redcore Linux doesn't support optimization the way Gentoo Linux does," Mamut says. "But that couldn't be further from the truth. One thing Redcore Linux does provide is some defaults, yet those are not carved in stone. One can change every aspect of the distribution, like USE flags, CFLAGS, keywords, and so on the same way as in Gentoo. Heck, one can even recompile the whole distribution to take advantage of a certain CPU instruction set or install packages from Gentoo itself."
Mamut goes on to explain, "Redcore is not as optimized by default as a from-scratch install of Gentoo. It is rather generic so that it can be installed on as many configurations as possible, but it does nothing to prevent such an optimization – it just has to be done after the installation. Of course, if somebody is willing to do such an optimization, we would suggest installing Gentoo itself. Redcore is for those who want a starting point, with some defaults you can change and fine tune to your liking."
Coming Soon
Redcore has a workable distribution, but it is not standing still. It is currently working on an ARM64 port, optimized for the Raspberry Pi 4. At the time of writing, core userspace programs and utilities can be compiled, but the kernel and the coordination of subsystems remains to be managed. "We hope to have something by the end of the year." Meanwhile, on AMD54 architectures, Redcore continues in the best tradition of derivatives, taking the rough edges off its parent distribution.
comments powered by

Disqus
---
Support Our Work
Linux Magazine content is made possible with support from readers like you. Please consider contributing when you've found an article to be beneficial.
---