A desktop command-line widget
Command Line – KRunner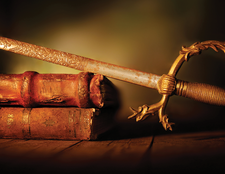 KRunner combines the command line with graphical navigation, offering speed and comfort for Plasma users.
For most users, the command line and the desktop environment are distinct. One notable exception is KRunner [1], which is installed by default with KDE's Plasma. Interacting with other default Plasma applications, as well as the system hardware, KRunner is basically a convenient widget for entering a single command, but it is also an application launcher and general navigation tool, as well as a calculator, a measurement and currency converter, music player controller, and even a spell checker – all controllable from the keyboard. In fact, should you choose, you can control the desktop entirely from KRunner, making it one of the most versatile applications in all of Plasma, despite suffering from few limitations.
The KRunner Interface
KRunner uses graphical navigation in the service of the command line (Figure 1). You can run it from the menu, but starting it with one of the KRunner keyboard shortcuts (Alt+F2 or Alt+Space) is more efficient. The KRunner window has an entry field at the top, with a list of possible text completions beneath it. You select these items with the arrow keys or mouse. To the left of the entry field is a button that opens the KRunner System Settings (Figure 1). From the settings, you can choose whether KRunner opens at the top center or top middle of the screen, and whether its text completions are determined partly from previous choices. Below is a list of 26 plugins, some of which can be configured to change the order in which results are displayed, or similar features. If you are short on memory or have no use for a plugin, you can disable it (Figure 2).
Entering Commands
Most commands that can be entered in a terminal can be entered in KRunner, using the same syntax as in the Bash shell. At the top of the drop-down list, you can select the option to run the command. In the same way, you can install software from KRunner. Type in your best guess at an application's name, and KRunner will offer suggestions. Click a suggestion, and the KDE Plasma Software Center opens.
[...]
Use Express-Checkout link below to read the full article (PDF).
comments powered by

Disqus
Visit Our Shop
Direct Download
Read full article as PDF: